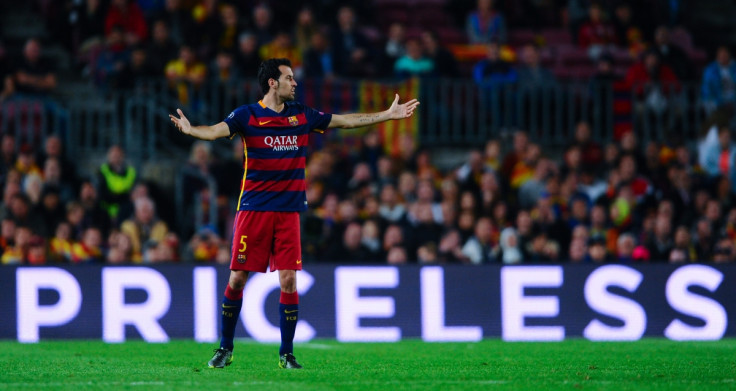 Pep Guardiola's hopes to reunite with Sergio Busquets at Manchester City has all but ended after Barcelona have announced that that talisman midfielder has instead committed his long-term future to the Nou Camp by signing a new five-year deal until 2021. The Spanish international got the pay-rise he had been demanding for months but in exchange the club increased his release clause with a stunning €200m (£152.5m, $223.4m) tag.
The 27-year-old holding midfielder has been a crucial member for the Catalan side during their recent golden era of the club after Guardiola promoted him to the first team alongside Pedro Rodriguez in 2008. They won six La Liga titles, three Champions Leagues, four Copas del Rey, three Uefa Super Cups, four Spanish Super Cups, and three Fifa Club World Cups.
Busquets' future came under scrutiny in recent times alongside Neymar amid delays in the negotiations to sign a new deal.
Busquets, nevertheless, had signed a new contract at Barcelona only last year but the club then promised him to give him a pay rise should performances warrant one. The problem, as it has been the case with Neymar, is that due to the club economic situation they couldn't offer him that deal until the end of the season.
This way a number of reports have linked him with a big money move away after Mundo Deportivo claimed that PSG were ready to pay €100m (£78.8m, $109.8m) for the player's services, while Chelsea and Manchester City were also taking advantage to the situation to lure him to the Premier League.
Busquets did little to diminish that speculation after admitting that it would be difficult to turn down an offer to reunite with Guardiola at Manchester City.
"I have always said that there are only two people who can change my decision to stay here. One is my wife, and she supports Barcelona, so I do not think there is a problem on a personal level. From a sporting level, the other person would be Guardiola. It is clear that I owe him a lot and so for me to work with him again would be an honour," the Barcelona star said during an interview with ESPN.
However, Barcelona have ended those speculations on Friday 27 May after revealing that the Spanish international has signed a new deal until 2021, meaning that he will be at the club until at least 32-years-old. Furthermore, they have increased his release clause to £152.5m ward off any potential suitor.
"FC Barcelona has reached an agreement with Sergio Busquets for the renewal of his contract for five seasons, until 30 June 2021. The agreement includes an incentive option for a two-year extension, based on the number of appearances he makes," the club confirmed. "The contract has a €200 million buyout clause. The new contract will be signed in the coming days."