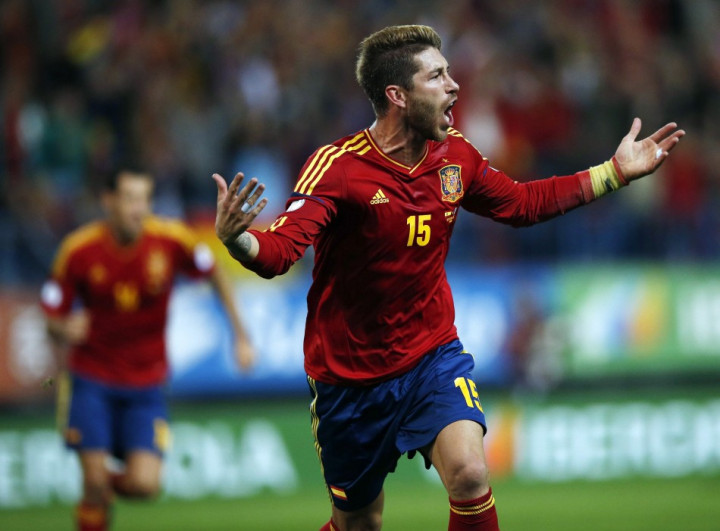 Real Madrid star Sergio Ramos has questioned the commitment of Chelsea duo Diego Costa and Cesc Fabregas to the national team after the pair were ruled out of the Spain's games against Belarus on Saturday, 15 November, and a friendly against Germany three days later due to injuries.
Spain boss Vicente del Bosque didn't included Costa in his 23-man squad, stating that even though he was enough fit to play for the Blues against Liverpool on Saturday – when he scored a goal - he needed a rest to finally put behind him the number of injuries that have hampered his fitness since the beginning of the campaign.
Meanwhile, Fabregas has been withdrawn from the list even though Spain stated in an official announcement that the scan "rejects any possibility of a hamstring injury" – while he just suffered discomfort.
Many pundits in Spain have heavily criticised Del Bosque for his decision to let both players off from playing the next two games, suggesting he does not have what it takes to face Chelsea boss Jose Mourinho.
Ramos, who is one of the captains of the Spanish national team, has now reopened the debate, sending messages to both players about a lack of commitment.
"I have my opinion but I am not going to give it. There are agreements between Vicente and the players and I can only speak for myself. During the previous gathering of the squad I came, I underwent a test, I had a tear in my calf and I left. Other times I have played with niggles," Ramos said, according to AS.
"This runs in each person's DNA and is agreed upon with the coach. I would have clarified the issue so that there would not have been a greater impact, so that the people could not have speculated or made stuff up."
When questioned about Costa's pelvis injury he added: "Pubis [pelvis] is what we can say you have. Another thing is what you have.
"I would like that the players have the same commitment with the national team that they have with their club. But the coaches are those who make the rules. Del Bosque and Grande are those who should make the rules."