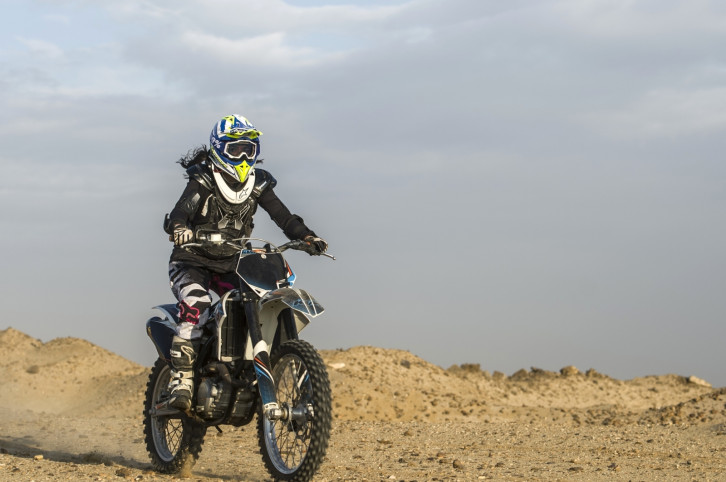 A female Russian biker, known as the 'sexiest motorcyclist' on Instagram, died on Monday (31 July) in a horrific bike crash in the city of Vladivostok after she lost control of her BMW motorcycle and slammed into a side railing.
Police are not treating Olga Pronina's death as suspicious. She suffered fatal injuries after her motorcycle split in half during the crash, police said on Tuesday.
"She was high-speeding and the rear wheel of the bike was lying 600 metres from the scene. We tried to find her action camera, but could not find it," a friend of Pronina who arrived 10 minutes after the accident at the scene said.
The 40-year-old mom-of-one's Instagram account, Monika9422, has over 168,000 followers. She used to share photos and videos of her stunts, which she carried out in skimpy outfits, on her profile.
Pronina was seen drinking from a straw while riding at the bike at a high-speed in one of her videos which she posted on Instagram last month.
"By the way, doing 250kmph and holding one hand is very uncomfortable. I do not recommend but I got my adrenaline dose," she warned her followers.
According to local media reports, the biker had several speeding offences registered against her name.
"She was breaching every rule of safety and riding at high-speed pretty often. Her death is incredibly tragic," Eduard Hasanov, her friend told Sputnik News.
Meanwhile, Pronina's fans and followers have been left devastated by the news as many poured their condolences on her Instagram page.
One follower, GNK_77.1 posted: "Condolences to the family and friends, this is huge tragedy. Sleep calm, crazy girl."
Fan aaterihoff wrote: "I wish you good roads in heaven." And another follower katilda__in__law posted: "She got her adrenaline dose all right, once and for all..."
Pronina had expressed her passion for bikes and deadly stunts. She once wrote on social media: "I love it because it forgives me my foolishness, for saving my sorry ass, thank you for never failing me, for making my lonely nights better, for helping me to forget troubles of my life, for training my body and my brain."
"I am grateful to it for the sparkles in my eyes, for the warm wind blowing on my cheeks when my visor is open, for unbelievable excitement and a feeling of flowing in the air, for doses of adrenaline. Thank you for gifting me freedom... and I know that I am not alone. There are thousands like me, those madly in love with their metal horses," she added.