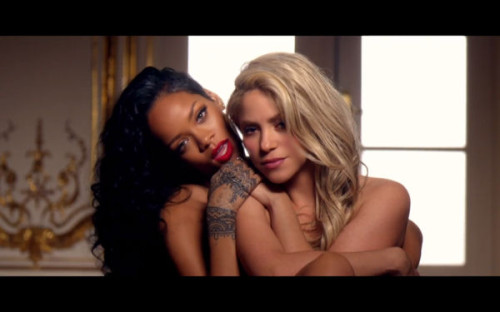 When Shakira teamed up with Rihanna to record a new single the results was always expected to be steamy- and fans were not left disappointed.
The Colombian beauty and Bajan bombshell have turned up the heat in the newly-released promo for Shakira's latest single Can't Remember To Forget You.
The four-minute visual, directed by Joseph Khan, see the stars rubbing each other and twerking in a series of skimpy outfits.
At one point the duo cradle each other naked and even almost share a kiss.
The video has already received rave reviews from fans after the duo unveiled it on Vevo following the single's initial release earlier this month.
Can't Remember To Forget You talks about falling in love and struggling to let go once the relationship goes sour.
Lines include: "I've never met someone so different; You're part of me now, so where he goes I follow" and: "When you look at me, the only memory, is us kissing in the moonlight."
Shakira, who has a child with football ace Gerard Pique, previously explained the reasons for choosing to collaborate with RiRi.
"Working with her was utopia," the 36-year-old star told US Glamour magazine. "She's the sexiest woman on the planet. And at the end of the day, we're both just basically Caribbean girls.
"The chemistry was so good and so real. She taught me dance moves. She was a sweet teacher," she added.