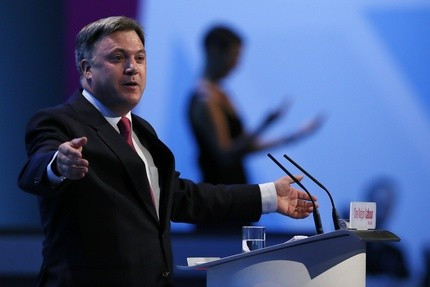 Labour's Ed Balls has one defining challenge when it comes to realising his dream of becoming Britain's next chancellor in 2015. He has to prove he can be trusted.
He has to persuade voters that the last Labour government, of which he was the chief economic strategist and which many believe landed the UK in its worst economic crisis of the modern age, should be given another chance.
It is a big task, not made easier by the fact that all his previous attacks on the coalition government's "Plan A" have given way to a recognition that the recovery appears to have started.
And if that wasn't bad enough, there is former spin-doctor Damian McBride revealing on a daily basis just how backstabbing, sleazy and untrustworthy key individuals in the last Labour government were.
So a big part of Balls' conference speech was all about rehabilitation - of himself and of the Labour party.
It started with an apology of sorts, with Balls admitting: "We have more work to do to win back the trust of the British people." It is not the first time he or other senior Labour figures have said it but they still need to repeat it.
"Three and a half years after the general election defeat, we have learned from that experience and our time in government and where we got things wrong. The next Labour government will be different from the last," he promised.
And he signalled one of the key ways it would be different would be through its spending commitments.
Political stunt
Despite persistent claims by former Labour Chancellor Gordon Brown that his policies in government were "prudent", Labour never entirely threw off the label as the "tax-and-spend" party or claims that it was largely responsible for the economic crisis.
So Balls promised he would stick to the current government's spending totals for 2015-16, adding: "Any changes to the current spending plans for that year will be fully funded and set out in advance in our manifesto.
"There will be no more borrowing for day-to-day spending. And we will set out tough fiscal rules - to balance the current budget and get the national debt on a downward path."
As a further attempt to prove he could be trusted in power, he said he would put his manifesto to the government-created Office for Budget Responsibility "to independently audit the costings of every individual spending and tax measure".
That is a powerful promise, immediately branded a "stunt" by ministers amid claims that Balls knows such a move goes beyond the OBR's remit.
However, the body later confirmed it would take legal advice to see if that were possible. And, in any case, it would be counter-productive if the government refused to change the rules to allow the move. So it could well happen.
Backstabbing
As for Balls's once favourite "Plan B" soundbite, it was nowhere to be seen, replaced by the new attack that the Tories' recovery was only for their cronies, the wealthiest in the land.
"Now, after three wasted years, David Cameron and George Osborne try to claim their plan has worked after all.
"Worked? It may have worked for a privileged few at the top. But for millions of people in our country this is no recovery at all," he declared.
But, with the election just 20 months away, the Labour leadership knows the time has come to go beyond attacking the government and to start filling in the blanks in its own programme.
Ed Miliband has already started that by unveiling plans to scrap the bedroom tax and increase the minimum wage, for example, and Balls has added to the list with proposals to extend child care and increase the annual banking levy.
But he also threw a question mark over the future of the controversial high-speed rail link between London and the north of England asking whether it was "the best way to spend £50bn for the future of our country".
It was a confident speech that, probably inevitably, went down well with delegates in Brighton. Some commentators remarked on the fact he ranged across a number of areas, not sticking only to his Treasury brief, so raising suggestions it was a leadership speech.
But if Balls still retains ambitions to become Labour leader he will not only have to rehabilitate himself on issues of the economy, he will also have to successfully distance himself from the claims of backstabbing and negative briefing detailed in McBride's book.
That is not just a struggle for him, a close associate of McBride when they worked together as part of Gordon Brown's inner circle. It is also a task for leader Ed Miliband who was also part of that group.
For his part, Miliband has insisted he was suspicious of McBride and urged Brown to sack him. On Tuesday, he will hope there is nothing in the latest extracts to overshadow his own set-piece speech to this rally - a performance which could set the seal on his hopes of winning in 2015.