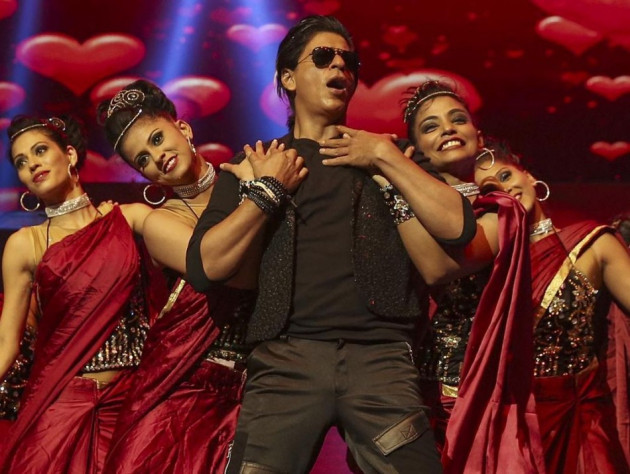 Shah Rukh Khan along with his fellow Bollywood actresses gave a rocking live performance in Australia as he headlined the internationally popular dance, music and comedy show, Temptation Reloaded, on the night of 7 October in Sydney.
Shah Rukh Khan performed to famous Bollywood tunes at the show, which was a part of Sydney's contemporary annual arts festival, Parramasala Festival 2013.
Bollywood stars' performance at Temptation Reloaded rounded off the four-day festival which took place from 4 October to 7 October at Allphones Arena Homebush in Sydney's suburb Parramatta.
The 47-year-old actor led the two-hour concert that also saw performances by A-list Bollywood actresses, including Madhuri Dixit, Rani Mukherjee and Jacqueline Fernandez.
"I am thrilled to be back once again in Sydney for my first Australian performance of Temptation Reloaded. Sydney is a beautiful city and has a special place in my heart," said Khan, who performed in Sydney for the first time, and in Australia for the second time but after a gap of 11 years.
"Sydney thanx for the madness. U were all so gracious..." he wrote on Twitter after the show.
"Perth here we come!" added Shah Rukh Khan, who will perform in Perth, the last leg of his performance in Australia, on 9 October.
The show attracted thousands of audiences of not only Indian origin, but also Bollywood fans from Fiji, Singapore, Indonesia and Malaysia.
"Shahrukh Khan - or SRK - has featured in 75 films and I'm delighted to welcome him to Sydney as he brings Temptation Reloaded to Australia for the first time," New South Wales Premier Barry O'Farrell said in a statement. "We are pleased to host SRK and the talented cast of Temptation Reloaded in Sydney."
Check out here photos of Bollywood stars' performance at Temptation Reloaded in Sydney.