After a 70-hour hunt, Chinese rescue personnel have found two survivors buried by a massive landslide in the city of Shenzhen following heavy rain. A third person thought to be alive in the same location was later declared brought dead at the hospital.
One survivor – 19-year-old Tian Zeming – has been undergoing medical treatment. He was pulled out alive after a 20-hour effort. Local reports suggest emergency workers were still battling to pull out the second victim who is thought to be a serious condition.
Tian, who told rescuers about another survivor nearby, was in stable condition at the Guangming New District Central Hospital. Doctors were struggling to save his foot after his ankle was badly injured when he got stuck in the mud.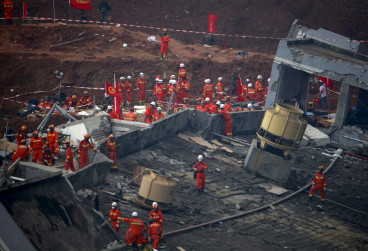 The mudslide – which swept through an industrial park bringing down more than 30 buildings – hit Shenzhen, in southern Guangdong province, on Sunday, 20 December. More than 70 are still unaccounted for in the tragedy.
Pictures circulated in Chinese social media show firefighters continuing with their rescue measures in the area, where a blanket of mud covered no less than 380,000 square metres.
Nearly 4,000 rescue personnel are racing against time looking for survivors. Makeshift shelters have been erected in Shenzhen to house the displaced victims.