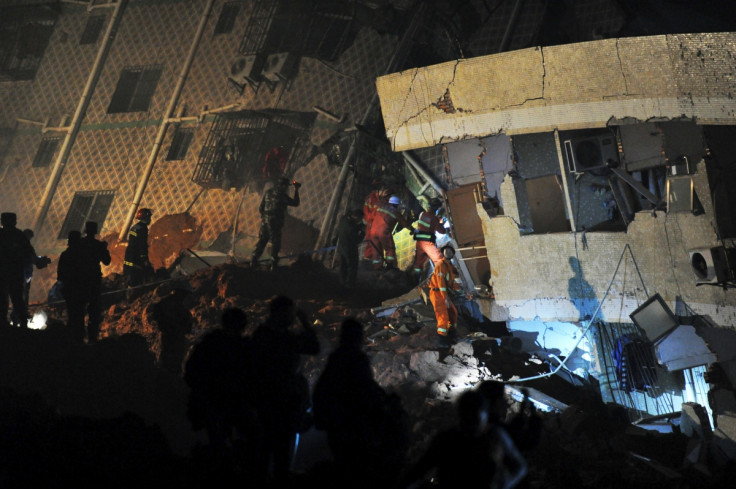 The massive landslide in southern Chinese city of Shenzhen has triggered the explosion of a natural gas pipeline as dozens of people remain unaccounted for. The blast at the Hengtaiyu industrial park was heard from as far as 4km.
According to figures posted by state-run news agency Xinhua, 91 people — 59 men and 32 women — are still missing as of 21 December morning. No less than 33 major buildings have been brought down by the mudslide in the Shenzhen city, located in the southern Guangdong province.
The ruptured pipeline has been emptied and a temporary line will be built, said PetroChina, Beijing's top oil and gas producer. "I saw red earth and mud running towards the company building. Fortunately, our building was not hit, and all people in our company were safely evacuated," a local worker told Xinhua.
About 1,500 rescue personnel have been deployed to carry out the emergency measures. So far no deaths have been reported. At least 13 people have been hospitalised with three among them in serious condition. "Signs of life" have been detected in three different locations, authorities say.
Local authorities say 900 people were evacuated before a mass of red earth and mud began to barrel down on the industrial park. Shenzhen, located on the border with Hong Kong, is a nerve-centre for industries.
Around 60,000sq metres (10 hectares) have been covered by mud. Drones and search dogs have also been pressed into rescue services. Authorities have ruled out more landslides in the area.
President Xi Jinping and Premier Li Keqiang have ordered authorities to hasten the pace of rescue efforts. A working group of experts from Beijing has also been dispatched by the Chinese cabinet State Council to oversee the operations.