At least 91 people are missing after a mountain of mud and construction waste collapsed and buried 33 buildings at a business park in Shenzhen, southern China. The wall of mud smashed into the Hengtaiyu industrial park in the city's northwestern Guangming New District. Fourteen factories, 13 low-rise buildings and three dormitories were among the buildings flattened.
Aerial photos show the area covered in a sea of red mud, with several buildings knocked on their sides or collapsed entirely. The mud covered an area of more than 380,000 square metres (94 acres) and was 10 metres deep in parts, Shenzhen Vice Mayor Liu Qingsheng told reporters. Local resident Peng Jinxin said the mud came like "huge waves", as people ran out of the way. "At one point the running mud was only ten metres away from me," Peng told the official Xinhua news agency.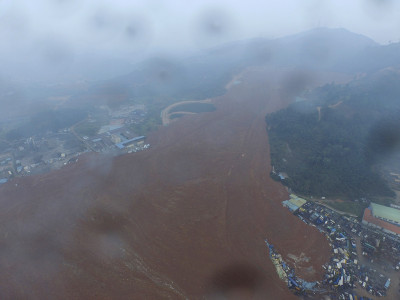 Almost 3,000 rescuers were working at the scene, Xinhua said, with sniffer dogs and drones. Rescuers were focusing on several areas where sensors had detected signs of life. However, a statement by the Public Security Ministry's Firefighting Bureau said the mud completely filled many of the buildings, leaving the "room of survival extremely small". Just seven people were rescued overnight and 13 overall were hospitalised, including three with life-threatening injuries, according to state broadcaster China Central Television, citing rescue leaders.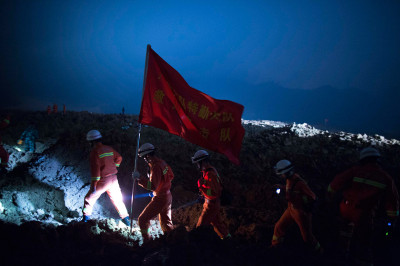 The Ministry of Land Resources blamed the landslide on a man-made mountain of dirt, cement chunks and other construction waste that had been piled up against a hill over the past two years. Heavy rains in the region had saturated the soil, making it increasingly unstable and ultimately causing it to collapse with massive force.
Some residents blamed government negligence for the disaster. "If the government had taken proper measures in the first place, we would not have had this problem," said Chen Chengli. "We've been down this road before, it's too crazy."
The landslide is the fourth major disaster to strike China this year following a deadly New Year's Day stampede in Shanghai, the capsizing of a cruise ship in the Yangtze River and a massive explosion at a chemicals warehouse in Tianjin. Human error has been suspected or confirmed in all three previous disasters, pointing to an often careless or callous attitude toward safety in China.