Warning: This article contains spoilers for series three of Sherlock.
The BBC has officially announced series four of hit drama Sherlock as well as a special set to start filming in January 2015.
Benedict Cumberbatch will return as Sherlock Holmes with Martin Freeman at his side as John Watson and Andrew Scott returning as their nemesis James Moriarty, who was presumed dead until series 3's final twist.
Series four is likely to premiere on New Years Day 2016, as has been the case with each of the last two series which started on January 1st, in 2012 and 2014. A Christmas Day special seems the likeliest date and earlier this week Freeman suggested as much.
However with the BBC not specifiying air dates at this time the special could yet air earlier, especially considering that shooting begins in January.
Speaking in a press release series co-creator Steven Moffat said: "A special, plus a new series of three episodes - it's a record-breaking run! Of course, it's far too early to say what's coming, but we're reasonably confident that the very next thing to happen to Sherlock and John, is the very last thing you'd expect..."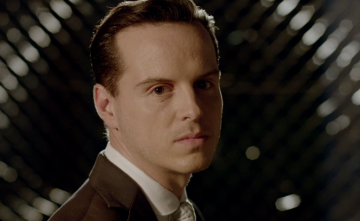 Fellow co-creator, co-writer and star (as Sherlock's brother Mycroft) Mark Gatiss added: "Series Four! At last ! It's always special to return to Sherlock but this time it's even more special as we're doing... a Special! Not only THAT, we'll then be shooting three more episodes which will take Sherlock and John Watson into deeper and darker water than ever before. The whole Sherlock team are terrifically excited to return for four new adventures. The Game is on - again!"
The bumper shooting schedule of four feature length episodes will be a huge ask of cast and crew, but everyone is set to return.
"It's a very good day in the life of a BBC One Controller when you can announce Sherlock will return for a special plus a new three-part series," added the BBC's Charlotte Moore. "Massive thanks to Sue Vertue and Hartswood Films for pulling this off, it's no mean feat pinning down some of this country's most brilliant and in-demand actors and writers."
BBC's head of drama Ben Stephenson added: "Steven and Mark are ready to unleash the most shocking and surprising series of Sherlock yet. The only thing to expect is the unexpected..."
The reveal was teased last night with two tweets setting up this afternoon's announcement. BBC One's Twitter account also changed its profile picture to a picture of Scott as Moriarty and created the mysterious hashtag #221Back.