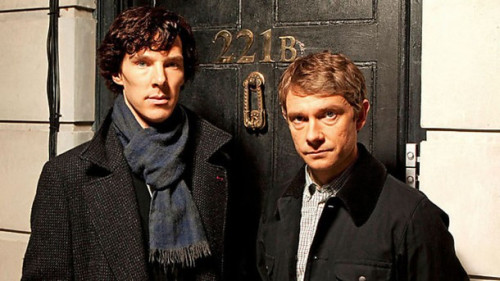 The third and final episode of Sherlock Season 3 titled His Last Vow, which aired on 12 January, left fans eagerly looking forward to a fourth season. And unlike the long wait that took place between the show's season 2 and 3 (two years), the famous British detective is set to return during Christmas 2014.
BBC has put production for Sherlock series 4 on fast-track and is looking at a 25 December, 2014 premiere, according to Hypable.
"The BBC is desperate for a Sherlock Christmas Day special this year. It wants its biggest guns ready," a source told the British publication.
In fact, at the BAFTA screening for Sherlock season 3 finale, the series co-creator Steven Moffat stated that he wanted the (new) series to be made as quickly as possible, reports Cinema Blend. The network heads share this sentiment as a Christmas special would mean a phenomenal rating potential.
"Most all of Great Britain's series get the holiday treatment for one-off episodes, including US favourites Downton Abbey and Doctor Who," says a Sun report.
Ideas for the fourth season and a 'highly likely fifth' are already sketched out, according to series creators Moffat and Gatiss.
Amidst all these new developments regarding Sherlock season 4, Moffat also left a window of uncertainty open saying: "Sherlock started very well, the second series did better than the first and now the third is doing better than the second ... It shows the benefits of starvation - put things on less often!"
The only hitch one can foresee, which can potentially alter the season 4 plans, is the availability of Benedict Cumberbatch (Sherlock) and Martin Freeman (Watson). The two actors, who are also busy with Hollywood projects (The Hobbit: There and Back Again) need to be able to juggle the shooting/promotion schedules of their ongoing projects.
Sherlock series 3 has seen record ratings for the detective drama where the third and final instalment of the series, His Last Vow, pulled in a whopping 8.8 million viewers, which equated to 32.1% audience share, according to Mirror.
Sherlock series 3 premieres Sunday, January 19, on PBS at 10 p.m. eastern/pacific in the United States.