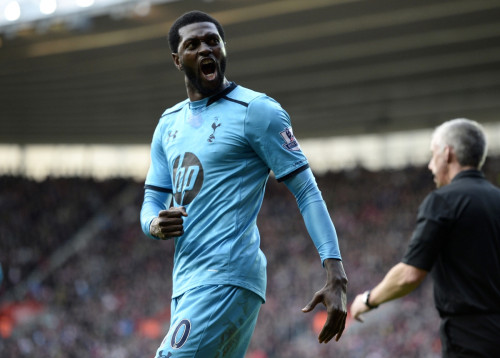 Tim Sherwood is thankful that Emmanuel Adebayor repaid his manager's faith with impressive performances over the last two months for Tottenham as the striker makes a stunning comeback after being left in the cold by Andre Villas-Boas.
Sherwood took over at White Hart Lane following Villas-Boas' dismissal and so far the former assistant manager, who has no former senior Premier League experience as a coach, has done a brilliant job of steadying the north London club.
Adebayor's return to the first team after being handed just 45 minutes of action all season from Villas-Boas has proven to be a stroke of genius by Sherwood and he says that the Togo international's inclusion in the squad was a logical conclusion.
"It's not as if he was an unknown, rubbish player who I have found from nowhere," Sherwood told ESPN. "Managers have different opinions on different players, but I always knew he was a good player and had the faith to give him the opportunity to go and do it. He has not let me down.
"Adebayor's situation is the same as everyone here. I've just done things the way I see it. I like to get forward-thinking players into positions where they can do damage and get defenders appreciating what is expected of them. Worry about us rather than worry about the strengths of the opposition -- that's what I tell the players.
"I look for the positives in a player, rather than looking what they can't do. If the negatives outweigh the positives, then it's time for a player to move on. When the sun is shining everything is great, and when you are popping the ball around, it's easy to feel good about the world.
"When you are not playing well, that is when you need to turn it around as players and a manager. We have been doing that so far."
Adebayor has so far scored six times in eight appearances. Tottenham are outside the top four, though only by goal difference, and with a tough fixture list coming up Sherwood will be hopeful that the hitman can continue his good form.