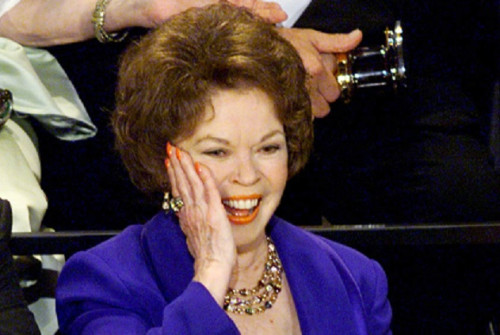 Hollywood star Shirley Temple, the most famous child star in Hollywood history, has died aged 85.
Temple died at home on Monday (February 10) in Woodside, California from natural causes. A statement said Temple passed away "surrounded by her friends and caregivers.
"We salute her for a life of remarkable achievement as an actor, as a diplomat and our beloved mother, grandmother and great-grandmother."
Temple struck fame early in her life with a string of hit films, the most famous being Bright Eyes in 1934. It featured the song 'On the Good Ship Lollipop,' which became her signature tune.
Temple was enormously popular with audiences for her cute appearance and sweet nature, while her multi-faceted acting skills ensured she was always in demand.
Her fame grew to such an extent that it brought her into contact with American heads of state – such as Franklin D Roovevelt.
He even claimed Temple could lift the nation's morale, saying of her: "It is a splendid thing that for just 15 cents an American can go to a movie and look at the smiling face of a baby and forget his troubles."
A string of films cemented her status in popular culture, including Curly Top, Stand Up and Cheer, Dimples, The littlest Rebel and The Little Colonel – the titles of which gave clues to the nature of Temple's appeal with audiences. In 1934 she won a Juvenile Oscar.
Temple's tremendous early success meant she struggled to make the transition to being a mature actress. But her success enabled her to retire from the film industry at just 22-years-old in 1950. She later became involved in diplomatic activities.