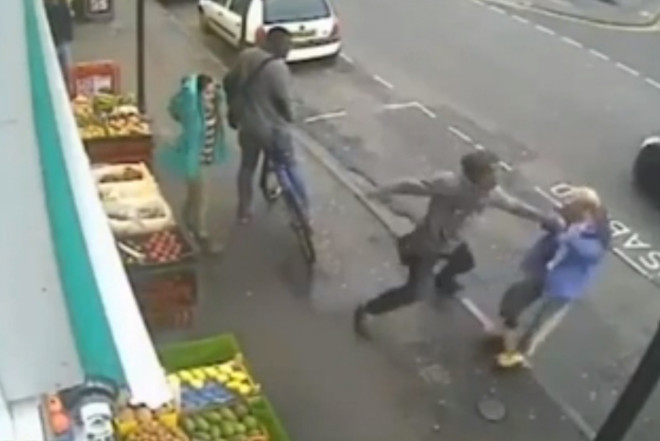 40-year-old Andrew Young had no idea that complaining to a cyclist about riding on the pavement will cost him his life. As surreal as it sounds, the CCTV footage that surfaced online showing the horrific attack, has gone viral.
Pedestrian Young died after a single punch to the head following an argument with the cyclist, reports Mirror. Young complained to the cyclist, Victor Ibitoye, that cycling on the pavement was dangerous.
The shocker came later when as the cyclist rode away, his friend, Lewis Gill, approached Young and punched him in the face without provocation, as can be seen in the video (below).
As Young is shown in the footage falling backwards with his head striking the road surface, Gill, 20, is seen walking away without even looking back to see the outcome of his attack. Several passersby rushed to Young's aid.
Watch the video below:
The attack took place in a busy shopping area of Bournemouth, Dorset, in broad daylight.
Young was immediately taken to a hospital where he dies the following day from head injuries. He was a patient of Asperger's Syndrome.
Gill pleaded guilty to a charge of manslaughter and was jailed for four-and-a-half years. A sentence that Young's mother describes as a 'joke'.
She said: "I saw the CCTV footage in court and you can see that Andrew didn't cause Lewis Gill any harm. I sat with him when he died. I wish that awful man who took my son away had pleaded not guilty so he would have got a longer sentence."
"The sentence is an absolute joke. I'm a committed Christian but I think that if someone takes a life they should be prepared to forfeit their own.
"There have been many people who have committed manslaughter or murder in this country and they never even serve a full sentence," she added.
The incident took place at 4.25pm on November 6 last year outside a Tesco Express in Charminster, Bournemouth.
Talking about the reason behind Gill's attack, Kerry Maylin, prosecuting, said, The defendant claims he was worried about Andrew Young because he thought he was being menacing.
"He said Andrew Young put his hand to his pocket and he thought he was going to pull out a knife or a gun."