IBM says that it has saved millions of dollars by getting employees to use Apple Macs rather than Windows PCs, as Windows machines apparently cost three times more in support than Macs.
Fletcher Previn, IBM's vice president of workplace as a service, is essentially the head of the conglomerate's IT department, and after years of experience in managing Windows PCs for large corporations, he decided things needed to change.
The Jamf National User tech conference in Minneapolis, Minnesota is held annually to discuss how enterprises use Jamf software to manage the huge numbers of computers and devices, as well as how internal software needed by different teams of employees is deployed across corporations.
In October 2015, Previn told the Jamf 2015 conference audience that 30,000 IBM employees were now using Macs, and when it came to support for employee computers, while 40% of all Windows users required someone to be sent out to fix the problem in person, which costs a lot more than a support call, in comparison, the same level of assistance was only required by 5% of Mac users.
IBM's employees and contractors in North and South America, Europe, China, India, Asia Pacific, Middle East and Africa are using about 604,000 laptops, consisting of 442,000 Windows PCs, 90,000 Macs and 72,000 Linux PCs, and each of the operating systems have separate customer support and firmware needed.
IBM has saved millions by switching from Windows to Mac

Fast forward 12 months, and Previn had even more impressive statistics to report at the Jamf 2016 conference in his presentation on 19 October. IBM is now adding new Macs at a rate of 1,300 new machines a week and will hit 100,000 Macs by the end of 2016.
When buying a new computer, initially Macs cost between $117-$454 (£96-£371) more than Windows PCs, but over four years, IBM ended up saving between $273 to $543 for every Mac it bought instead of a similarly-configured Windows machine, which runs into a great deal of money, when you consider just how many computers the company needs.
"It ends up being $57.3 million more expensive per 100,000 Windows machines, or exactly three times the cost," said Previn, who eventually intends to have half of the entire global workforce using Macs. "And this is a conservative number. This represents the best pricing we've ever gotten from Microsoft."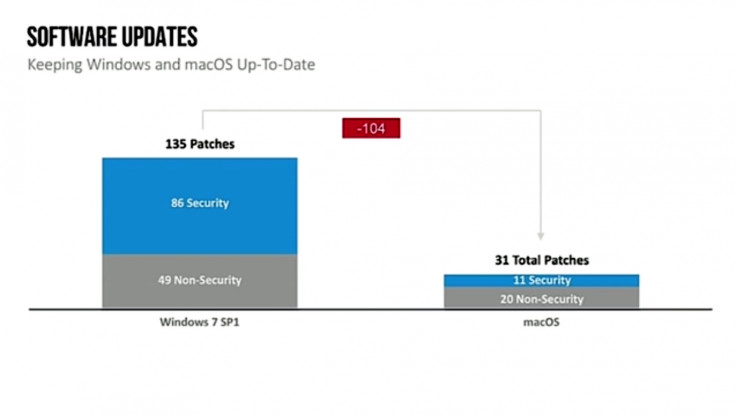 IBM found that as the number of Macs deployed across the corporation grew from 2015 to 2016, the number of support tickets decreased, so IBM didn't need to hire more help desk staff. Even better, because there are far fewer critical patches that need to be installed on Macs than Windows, the support staff need to visit the machines far less frequently.
And with the savings it has made from switching to Macs, the company has been able to invest a walk-up service where people could bring their laptops and devices to be repaired, as well as provide vending machines stocked with PC and Mac accessories, so employees can get the things they need quickly.
Could this be the beginning of the end for Windows?
Of course, not everyone wants to move from an operating system they've become comfortable with, but Previn found that employees were more than happy to switch to the Mac OS X operating system.
"If you make it simple and easy for people to use, they will pull it from you, you don't have to push it on them," he said.
It's just rather ironic, considering IBM used to manufacture its own line of PCs – the ThinkPad, now owned by Lenovo – which at its peak was one of the best Windows PCs on the market, not to mention IBM's history of being the first to bring the personal computer to consumers in the 1980s, supported by software written by Microsoft.
Despite its long working relationship with Microsoft, for IBM to decide internally that it doesn't want to depend on Windows machines is a big deal. Could this be the beginning of the end of Windows?