The Pixel and Pixel XL have been built to showcase the power of Android and Google's vision of the operating system at its purest, most intuitive form. Google Assistant undoubtedly steals the spotlight, yet there are a number of features tucked beneath the surface that will let you get the most out of Alphabet's new flagships.
We've dug out the best hidden features, tips and tricks to help get you up and running with your new smartphone, and be sure to check out our Google Pixel XL review when you're done.
1) Use a Night Light
Studies have shown that the blue light omitted from smartphone displays and other gadgets can interfere with our sleep. Google has now built a Night Light feature straight into Android 7 that filters out blue light and help you get a better night's rest. You can toggle this manually from the notifications panel or set it to come on automatically by going to Settings>Display>Night Light>Turn on Automatically. You can set it to come on from sunset to sunrise, or use custom times.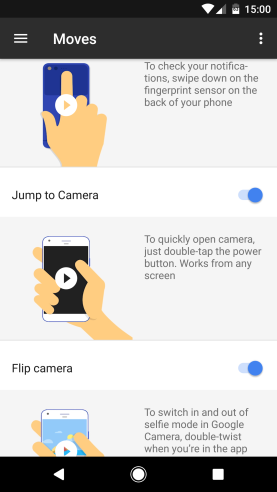 2) Bust out the Moves
The Pixel comes with a handful of gesture shortcuts that are disabled by default but are actually quite useful. This includes a feature that will let you quickly switch between the front and back camera by quickly double-twisting the phone, another for letting you boot up the camera from any screen by double-pressing the power button, and a gesture that will let you check your notifications by swiping down on the fingerprint sensor.
All of these are easy to switch on by going to Settings>Moves, and from there you can toggle each Move as you wish.
3) Be a battery saver
There's something reassuring about being able to see exactly how much battery you have remaining. You can modify the battery icon on the Google Pixel to show the percentage you have remaining by pulling down on the notifications bar and then holding the Setting cogwheel for a few seconds. A system message will pop up on-screen once you've done this successfully.
Once unlocked, go to Settings and scroll all the way down to System UI Tuner at the bottom. Open it and go to Status bar>Battery>Always show percentage. Also worth setting up is battery saver mode, which will automatically kick your phone into a low-power mode when your battery dips below a certain threshold. You'll find this within Settings>Battery>Battery saver.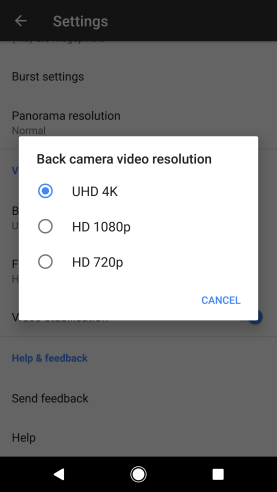 4) Enable 4K video
The Google Pixel is capable of shooting video in glorious 4K, and with Google offering free and unlimited cloud photo storage with its new flagship, there's no reason not to. The camera's video setting is set to 1080p by default though, so to crack up the resolution open the camera app, swipe right and hit Settings. Scroll down to Video>Back camera video resolution and hit UHD 4K.
5) Make Assistant work for you
Google Assistant is Google's answer to Siri and one of the first things you should test out after purchasing your Pixel. You can make it even more useful by tailoring the info it serves you based on your location and interests. Sadly, this feature is only available in the US for now.
To do so, launch Google Assistant by long-pressing the home button, tap on the menu icon in the top left corner and hit Settings. From there you can customise the websites it pulls your news from and what info to include in your daily agenda.
6) Liven up your wallpapers
The Google Pixel's Live Data wallpaper shows a colour gradient that changes according to time and weather conditions where you are. This is all well and good for more exotic parts of the world, but in the UK this means you're likely to be staring at a grey background six days out of seven.
Fortunately the Pixel also comes with a range of Google Earth and satellite pictures you can chose from. To keep things looking fresh, you can set this to change every 24 hours. You can do this by long-pressing the home screen, hitting Wallpapers, scrolling to the category of your choice and pressing Daily wallpaper.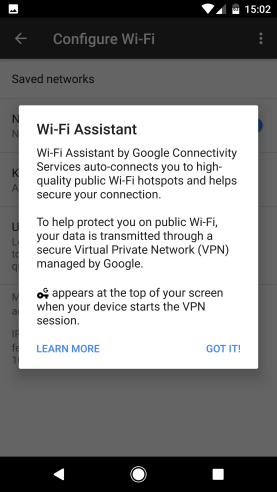 7) Boost your browsing experience with Wi-Fi Assistant
You can set your Pixel phone to automatically switch between Wi-Fi and 4G/3G networks while browsing the web depending on which has the strongest signal at a given time. This is useful because it helps you preserve mobile data, meaning worry-free browsing and content streaming.
To activate Wi-Fi Assistant, go to Settings>Wi-Fi and press the cog wheel in the top right corner, then hit Use open Wi-Fi automatically. To keep you safe on public Wi-Fi networks, Wi-Fi Assistant automatically passes your data through a VPN to keep your personal information hidden and secure.
8) Dip into Developer settings
The Pixel and Pixel XL are already pretty nippy devices, but you can make things even faster under your finger by tweaking animation settings. You first have to unlock the Developer options, which are hidden by default. To do this, go to Settings and scroll all the way down to About phone. Then scroll down to Build number and tap it repeatedly. This will unlock the hidden Develop options menu, which will now appear near the bottom of the main Settings menu.
Once in Developer options, scroll down to Drawing. Beneath this are options for Window animation scale, Transition animation scale and Animator durations scale. These options let you tweak how long the respective animations last for. The lower the number, the quicker windows, transitions and animations will respond to touch input.
There are a lot of other Developer options you can tweak from this menu, although it's been purposely hidden, intended only for power users. We'd recommend against fiddling around with them unless you know what you're doing. It won't damage the phone but could affect the way it works.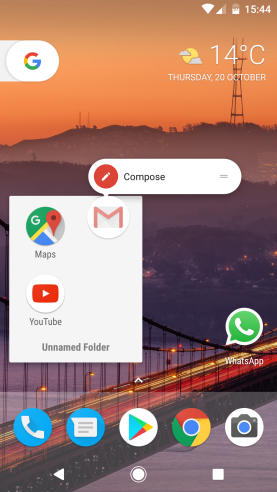 9) Use Launcher shortcuts
Long-pressing app icons on the Pixel will bring up shortcuts similar to the iPhone 7's 3D Touch feature, which will let you dive into specific app functions. For example, holding the Gmail app icon will give you the option of jumping straight into composing an email. Similarly, long-pressing the phone icon will bring up your favourite contacts and let you dial them without having to leave the home screen.
This feature appears to be limited to a selection of Google's own apps for the time being, although much like 3D Touch we expect it will be expanded to third-party developers in the near future.
10) Be security smart
With fingerprint, face and retina scanning, smartphones are better than ever when it comes to keeping our content secure. That said, you can never be too careful and Google lets you add an extra layer of security to your phone with Smart Lock, which automatically keeps your phone tablet locked when it's not with you, and unlocked when your device is safe.
For example, you can choose to have your device unlock when it detects another connected nearby device, such as a smartwatch, or when it's located in a 'trusted place' – at home or in the office, for example. To set up Smart Lock, head to Settings>Security>Smart Lock and chose when you want you Pixel to automatically lock. A word of caution: on-body detection will keep your phone unlocked while you're carrying it, but won't necessarily be able to tell the difference between you and someone else.