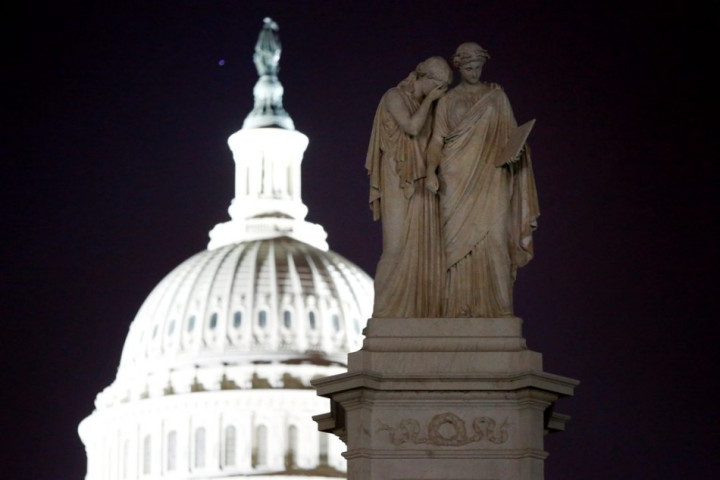 A meeting of the leaders of both houses of the US Congress has failed to reach an agreement to end the government shutdown as President Barack Obama warned that the country might default on its debt if the shutdown due to the budget impasse is prolonged.
The world's largest economy will run out of cash to pay its bills on 17 October if the debt ceiling is not raised. The country's laws limit its borrowing to $16.7tn (£10.3tn, €12.3tn).
The heads of some of Wall Street's biggest banks, including JPMorgan Chase, Goldman Sachs and Bank of America, earlier met Obama to discuss the debt ceiling and other economic issues.
In an interview with CNBC TV after the meeting, Obama blamed the Republicans for plunging the country into a debt default course.
"It's important for them to recognise that this is going to have a profound impact on our economy and their bottom lines," he said.
"I am exasperated because this is entirely unnecessary."
The Republicans, who have a majority in the House of Representatives, were firm on their view that the House should delay Obama's healthcare reforms in order to pass the budget and raise the debt ceiling.
$300m per day
The US government partially shut down on 1 October after a midnight deadline to approve a budget for 2014 passed. Close to 800,000 government employees, including 400,000 in the Defence Department, were forced to take unpaid leave.
According to economists at IHS, the shutdown will cost the economy $300m per day, adding that a week-long shutdown would reduce fourth-quarter growth by 0.2 percentage points to 2%.
The partial shutdown is the first for the US government in 17 years. The last time it was shut down was in 1995-96 when services were suspended for a record 21 days.
Impact on Manufacturers
The shutdown is expected to affect a few US manufacturers who rely on government funds and approvals.
Aerospace major United Technologies and aircraft maker Boeing had earlier warned that they are preparing to slow or stop work if the shutdown goes into next week. The companies require government approvals to go ahead with a number of projects.
Meanwhile USEC, which supplies enriched uranium for commercial nuclear power plants, said that it would have to furlough some workers at an enrichment project in Ohio if the shutdown goes beyond 15 October. The project is 80% funded by the US department of energy.
Implications for World Economy
Financial markets across the globe are anxiously looking at the US budget crisis. The head of the European Central Bank (ECB), Mario Draghi, had warned that a prolonged shutdown poses "a risk not only for the US, but also the world economy".
However, Drahi was confident that the US leaders would reach an agreement on the issue.
Investors across the globe generally hope that the shutdown will be shortlived.