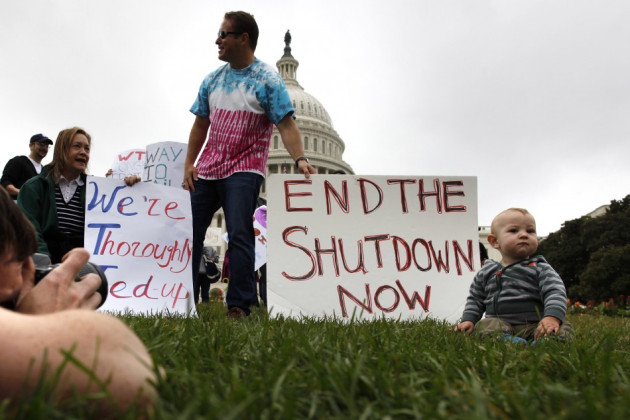 Fitch Ratings placed its AAA rating on US debt under review for a possible downgrade, as Capitol leaders dragged debt-ceiling discussions towards the final deadline to increase fears of a possible default.
The US long-term foreign and local currency issuer default ratings and the ratings of all outstanding US sovereign debt securities have been placed on 'rating watch negative' by the credit rating agency. The outlook on long-term ratings remains negative.
Fitch highlighted the ongoing budget impasse and debt-ceiling issue as the key reason for its move.
"Although Fitch continues to believe that the debt ceiling will be raised soon, the political brinkmanship and reduced financing flexibility could increase the risk of a US default," the agency said in a statement.
"The US risks being forced to incur widespread delays of payments to suppliers and employees, as well as social security payments to citizens - all of which would damage the perception of US sovereign creditworthiness and the economy."
"The prolonged negotiations over raising the debt ceiling (following the episode in August 2011) risks undermining confidence in the role of the US dollar as the preeminent global reserve currency, by casting doubt over the full faith and credit of the US," Fitch added.
The ratings agency noted that the political turmoil in the country has dented confidence in the effectiveness of government institutions and in the "coherence and credibility of economic policy".
It expects to resolve the rating watch negative by the end of the first quarter of 2014 at the latest, subject to political developments.
US stocks declined following the Fitch statement. The Dow Jones Industrial Average fell 0.87% to 15,168.01 at close, while the Nasdaq index was down 0.56% to 3,794.01. The S&P 500 index closed at 1,698.06, down 0.71%.
Debt-Ceiling Crisis
The US must increase its $16.7tn (£10.5tn, €12.3tn) borrowing limit by 17 October in order to avoid defaulting on its bills.
A bipartisan Senate plan outlined on 14 October was supported by the White House. The plan would fund the government through mid-January and raise the debt ceiling until February, allowing the politicians more time to negotiate and agree on a longer-term budget.
Hundreds of thousands of federal employees were forced to go on unpaid leave and government offices were closed after the Senate failed to pass the budget for 2014. The opposing Republicans wanted Obama to delay or eliminate his signature healthcare programme known as Obamacare in order to pass the bill.