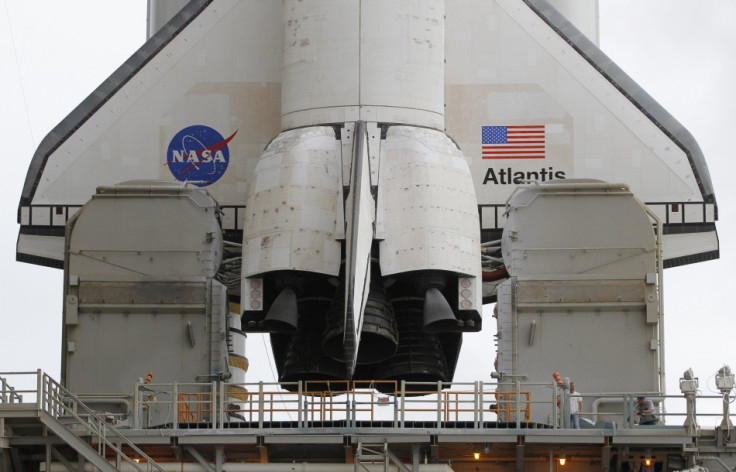 NASA fuelled space shuttle Atlantis for lift-off Friday on the final flight of the 30-year program, defying the stormy weather that threatened to delay the launch, after forecasters insist there still is a 70 per cent chance of thunderstorm and rain.
But despite the gloomy forecast and an eve of launch which saw torrential rain and lightning, technicians are still proceeding as if it will take off on time.
Atlantis has helped build the International Space Station, and its final mission is to bring the biggest ever payload of supplies to keep the ISS well stocked.
The crew has been reduced from seven to four people as with no other shuttle on standby to perform a rescue mission in case of an accident, security risks are increased.
If Atlantis's crew get stranded on the International Space Station they will have no choice but to be ferried home in turns aboard the Russian Soyuz craft, a process that could take several months.
Commentators say the an estimated 750,000 people are expected to head to Cape Canaveral and its surrounding towns for this final shuttle launch, with many adding that the crowds could be reminiscent of those that gathered for the Apollo moon shots.
NASA runs on a tight schedule as it must launch Atlantis by Sunday or Monday, otherwise it will have to wait until at least July 16 because of an unmanned rocket launch scheduled for next week.
The 12-day mission will close out the space shuttle program, which began with the launch of Columbia in 1981.
Atlantis will join Discovery and Endeavour in retirement, so NASA can focus on sending astronauts to asteroids and Mars, while private companies will take over the business of getting space station cargo and crews to orbit.
However analysts have warned that the ambitious missions to the moon and Mars announced only seven years ago by President Bush have been scaled down as America is still struggling economically.
The Orion space project now comprises the Multi-Purpose Crew Vehicle, which has been especially designed for crewed to asteroids and Mars and has a capsule that looks similar to those that transported Apollo astronauts to the moon.
Larry Price, from technology company Lockheed Martin, told Sky News: "The decision was made in the trades that going back to a system like this was the best bet now.
"Maybe in the future there'll be better approaches. There were times when we wanted to have wings and wheels so we could land reusable vehicles on a runway.
"Well if you think about it, you have to carry those wings and wheels to Mars with you."
The shuttle is due to blast off from the Kennedy Space Centre at around 1124 BST today and it will be the 33rd flight for Atlantis and the 135th shuttle mission overall.
Must Read: Motorola Droid 3: Is it Google's best bet yet against Apple iPhone?