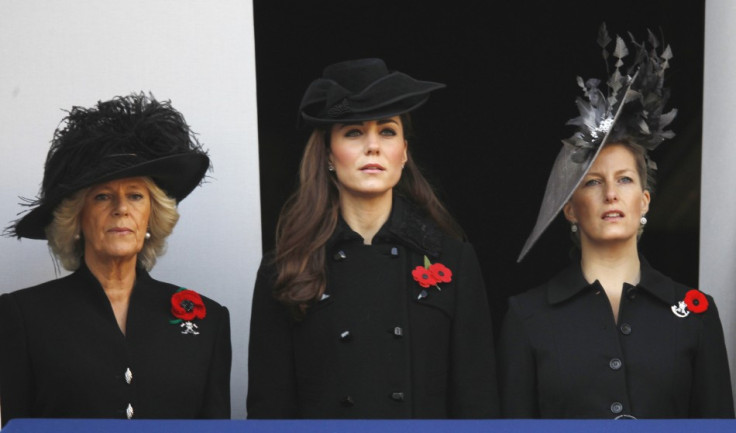 On Sunday, the Queen laid a wreath at London's Cenotaph, in the Whitehall neighborhood, as part of Remembrance Day ceremonies across the UK.
Remembrance Day is an annual British and Commonwealth tradition that honours the contribution of soldiers from these nations in past wars and conflicts.
The Queen, who laid the first wreath, was joined by her family, including the Duke of Edinburgh, the Prince of Wales, the Duke of Cambridge, the Duke of York, the Earl of Wessex, the Princess Royal. The Duke of Kent was also in attendance.
Apart from members of the royal family, Prime Minister David Cameron, Deputy Prime Minister Nick Clegg, Labour leader Ed Miliband, High Commissioners from Commonwealth countries and defense chiefs were also in attendance.
As part of the ceremonies, gunshots were fired, at 11 a.m., from the King's Troop Royal House Artillery, which signaled a two-minute silence. This was followed by a march past the Cenotaph by more than 7,000 ex-servicemen and women and civilians, including 60 war widows.
"Remembrance Sunday is a time for the nation to unite in its reverence for the British armed forces past and present," said Lt. Gen. Sir John Kiszely, of the Royal British Legion, according to a BBC report.
"When we bow our heads in reflection, we remember those who fought for our freedom during the two World Wars, but we also mourn and honour those who have lost their lives in more recent conflicts. Today, with troops on duty in Afghanistan and other trouble spots around the world, remembrance, and the two-minute silence, are as important as ever," Kiszely added.
Rembrance Day ceremonies were held across the country.