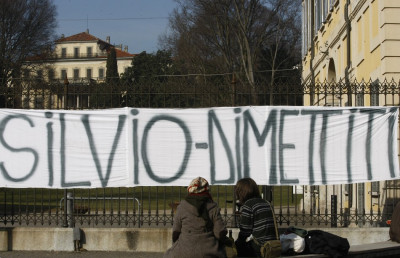 For Silvio Berlusconi, the domestic dimension has always been a key point on his troubled political and personal life. From Villa San Martino at Arcore, a small town near Milan, to Villa La Certosa in Sardinia, a breath-taking mansion overlooking the crystalline sea, his houses have equally been theatrical headquarters of political meetings as well as lascivious brothels for the Prime Minister's secret pleasures.
Not to mention the fact that Italy's ex-prime minister originally built his fortune with Edlinord, a construction company which established himself as a residential housing developer around his native Milan. He even named his party "House of Freedom."
But now his political legacy is in tatters. A chorus of Handel's Alleluia rang out Saturday as Berlusconi resigned as Italian premier, ending a tumultuous 17-year political era and setting in motion a transition aimed at bringing the country back from the brink of economic crisis. Berlusconi stepped down amid jeers, cheers and heckles of "Buffoon" from thousands of people who packed downtown Rome to witness his government's downfall after a stunning week of market turmoil that upended his defiant hold on power and threatened to tear apart the eurozone.
Forced from power Italy's ex-prime minister can now spend more time at one of the sumptuous properites he owns.Each house has a story to tell, from the seaside summits at Villa La Certosa with Russian President Vladimir Putin, now prime minister, to the Bunga Bunga parties at Grazioli Palace in Rome.
Images of his personal life, with grinning, cheering children and stunning wives, punctually pop up every Christmas in his tabloid's front pages. Italians still recall the biographical leaflet that was sent to them at verge of new elections in the country, featuring Mr Italian miracle hugging dogs, patting his sons on the back, gardening and displaying his new collections of antiques to the photographer.
When exactly this family portrait of the Italian economic boom of the 1960s turned into a decaying, lustful Nerone's sculpture is not known, but Berlusconi has always tried to protect his family, especially after his dramatic divorce from actress Veronica Lario.
Some commentators pointed out this might be one of the reasons why the old tycoon did not manage to push forward liberal and economic reforms Italy needed to tackle its long-ridden debt issues. "Family, before all" is an old-fashioned Italian proverb and Berlusconi's life seems to have embedded it perfectly well.