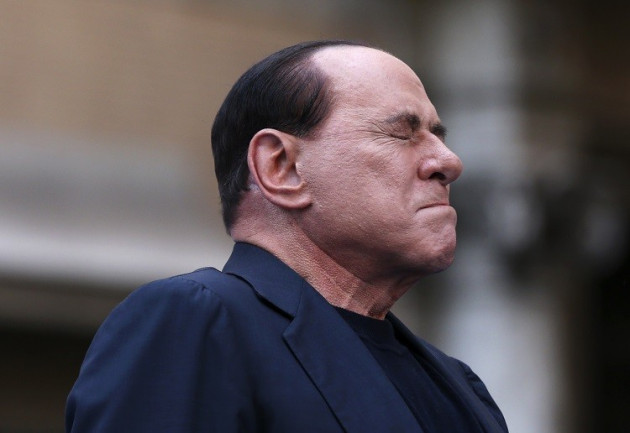 Italy's former prime minister Silvio Berlusconi will stand trial for allegedly bribing a senator, according to local reports.
Naples prosecutors have opened an investigation into allegations of a €3m (£2.6m) bribe they believe Berlusconi paid to former senator Sergio De Gregorio to drop support for Romano Prodi's shaky government and help bring it down in 2008.
The first hearing of the trial will be on 11 February 2014.
The 77-year-old already faces a ban from the Italian parliament for two years for tax fraud, accoding to a separate court ruling.
The judgement will have to be ratified by a full meeting of parliament in the coming weeks. He also faces prosecution for a range of other criminal offences, including sex with an underage prostitute, if the ruling is upheld and he formally loses the immunity he held as a public official.
Bribing a senator
In 2006 De Gregoro was elected to the anti-corruption and anti-Berlusconi party Italy of Values (IDV). It was led by former prosecutor Antonio Di Pietro, who had a prominent role in exposing Italy's biggest bribery scandal, "Tangentopoli", in the 1990s. IDV joined Prodi in a ruling alliance.
Shortly after the elections, however, De Gregorio quit IDV and founded his own party - Italians in the World - which aligned itself with Berlusconi's People of Freedom party (PDL). De Gregorio was subsequently appointed president of the senate defence committee.
The switch in allegiance was a hammer blow for Prodi's government, which had been clinging on to power with a three-seat majority in the senate. It collapsed in May 2008.
Di Pietro said De Gregorio had "sold his soul."
Later, De Gregorio claimed on TV that Berlusconi had pledged €500,000 in funds for his electoral campaign. Naples prosecutors Vincenzo Piscitelli and Henry Woodcock believe, however, that he was actually remunerated to the tune of a €3m bribe, negotiated by suspected wheeler-dealer Walter Lavitola.