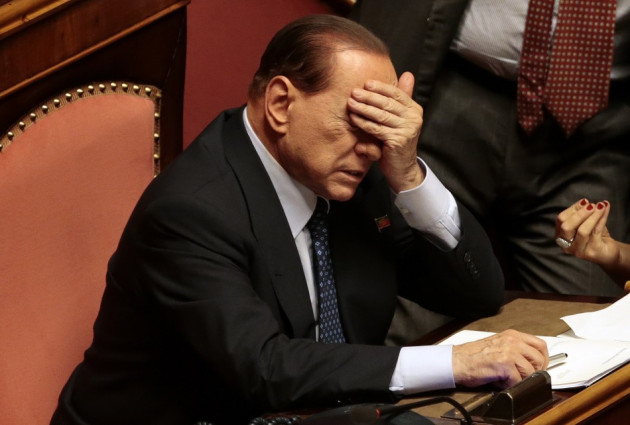 Italy's disgraced former prime minister Silvio Berlusconi should be been banned from the Italian parliament for two years for tax fraud, a court has ruled.
The judgment has no force in the Italian senate, and will have to be ratified by a full meeting of parliament in the coming weeks.
Berlusconi's lawyers have said they will appeal against the ban at the Italian supreme court.
The 77-year-old may now face prosecution for a range of other criminal offences, including sex with an underage prostitute, if the ruling is upheld and he formally loses the immunity he held as a public official.
If expelled, he will face a year under house arrest or performing community service after an original four-year jail sentence was reduced owing to his age. Berlusconi has previously indicated that community service is his preferred punishment.
The Italian senate is dominated by MPs from left-wing parties and the anti-establishment 5 Star movement, both opposed to Berlusconi's right-wing People of Freedom party, and both widely expected to strip the three-time former premier of his seat. A cross-party parliamentary committee has recommended his expulsion.
The fraud was committed by Berlusconi when negotiating the rights for US films to be shown on his Mediaset TV network.
In response to his possible expulsion, Berlusconi withdrew his party's MPs from the governing coalition, threatening to topple the government. But when it became clear that many of his party's MPs would support the government in a vote of confidence, Berlusconi backed down.
Berlusconi has accused magistrates of waging a vendetta against him.