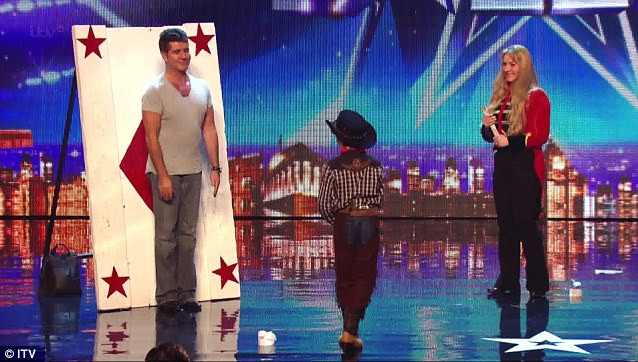 Simon Cowell had a close shave when he came face to face with a knife thrower on Britain's Got Talent.
11-year-old circus performer Edward Pinder, came close to hitting the music mogul with a flying blade, leaving Cowell's fellow judges in shock.
The 50-year-old, who volunteered to take part in the act, said: "I kind of felt my life going in front of me then."
Amanda Holden told Pinder: "You nearly killed Simon Cowell," while comedian David Walliams wryly asked: "How much would we have to pay you to get the knives a bit closer?"
Walliams kept up the high jinx as he joined an act on stage for some suspect dancing and later incurred the ire of his fellow judges when he used his gold button vote to automatically send Sex Bomb singer Christian Spridon into the next round of the competition .
Wearing a blue tartan blazer and calf high brown boots, the out of tune singer with questionable dance moves all his own somehow impressed Walliams, while Cowell, refused to speak to his fellow judge for his decision after the rest of the judges voted against the act.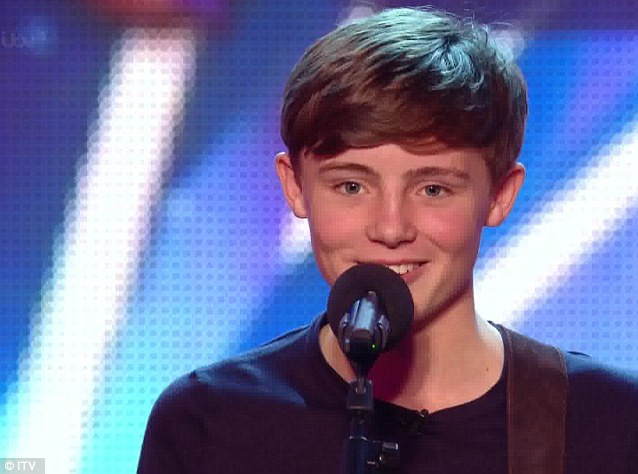 But the show did feature some genuine talent too.
15-year-old James Smith had the judges won over as soon as he took to the stage. His soulful rendition of Nina Simone's Bird's Flying High won him praise from Cowell, who said the audition was "fantastic."
When asked why he wanted to win the competition Smith said simply: "I would love to make my parents proud, as it's the best feeling."
After receiving a standing ovation for his performance he was stunned by the high praise he received from the judges.
Recognising the teenager's natural talent, Alesha Dixon said: "you've got a really soulful voice. You're a pop star in the making as Louis Walsh would say."
Noting the audience's reaction to the performance Walliams said: "you have just got this incredible charisma, being able to hold an audience in the palm of your hand like that is an incredible talent."
Clearly surprised by Smith Cowell added: "Wow, that was fantastic James, I was nervous, but you gave it a completely new twist, it was one of my favourite auditions so far."
Meanwhile stunt motorbike group Boldog FMX, left the judges jaws dropping as they performed a series of mid-air tricks and turns including a 360 degree backward rotation.
A wide-eyed Dixon said: "that was a millions times better than I could have imagined," while Holden described it as "terrifyingly brilliant. "
Britain's Got Talent continues on ITV1 on Saturday at 7.15pm.