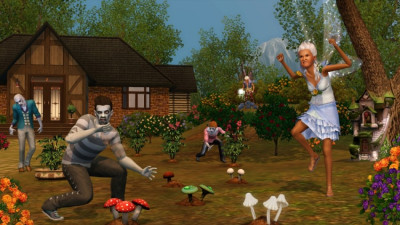 The first images showing the type of characters available in the Sims 3 Supernatural Expansion Pack have been posted online.
Witches, werewolves, fairies, vampires and zombies can all be added to the Sims 3 online world by players who buy the add-on software.
The expansion opens up the mysterious town of Moonlight Falls, where strange things happen by the light of the moon.
Players can create supernatural beings and then stalk the night, use their wand to cast spells, or just stay home and claw the furniture. Each type of creature has its own magical abilities, traits and interactions.
Gamers can learn to cast spells and find rare ingredients to brew elixirs, so you can charm or hex your Sims - including turning Sims into zombies or transforming them into gold.
Players using the Sims 3 Supernatural Expansion Pack can even hone their psychic abilities and build a career as a mystic fortune teller, although that will not affect the UK's official jobless total.
A number of supernatural items are also included and Sims can fill their homes with creepy new furniture, race around an arena on a broomstick or add a secret lair to their dwelling using the sliding bookcase door.
The Supernatural Expansion Pack is released on PC and Mac and an existing copy of The Sims 3 game is required to play it.
Those who pre-order The Sims 3 Supernatural Expansion Pack will receive a special Plants vs. Zombies Limited Edition copy of it, while stocks last.
Players using this version can ward off attacking zombies in their game using the famous Pea Shooter from Plants vs. Zombies and dress their Sims with classic zombie-themed attire for the ultimate creepy-chic look.
During a debate held by Nottingham GamesCity, Lord David Puttnam suggested that the Sims game should be added to the UK National Curriculum.