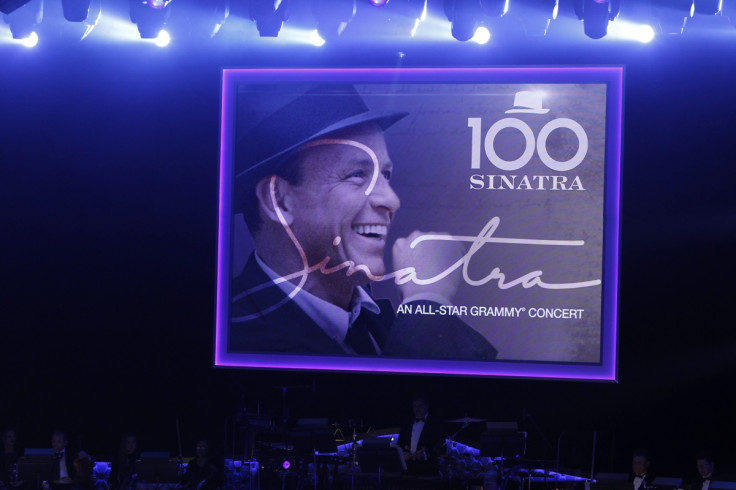 The world's most famous crooner Frank Sinatra would have been 100 years old today as his family and celebrity fans and fans have taken to social media to celebrate the life of the man known affectionately as Ol' Blue Eyes. Francis Albert "Frank" Sinatra had one of the most distinctive voices of the 20th Century and is noted as one of the greatest jazz and standards singers in the world.
His daughter Nancy tweeted: "On this day 100 years ago an American original was born. #franksinatra's influence will live on as long as his music is heard. We love you."
Ben Watt of the 90s band Everything But The Girl took to Twitter and said: "Sinatra soundtracked my childhood and my parents' romance. Happy 100th."
His former record label Capitol Records also took to the social media site unveiling that it was flying a flag from its Los Angeles headquarters in honour of the legend's 100th Birthday. It posted: "We've raised the @franksinatra centennial flag in honor of #Sinatra100 tomorrow!"
His anniversary had already been celebrated earlier this week with a star-studded concert in Las Vegas including performances from singers including Tony Bennett, Alicia Keys and Lady Ga Ga.
Son of Italian immigrants
Sinatra was born on12 December, 1915 in the town of Hoboken in New Jersey to Italian immigrant parents he first came to prominence as part of the swing era fronting the Harry James orchestra and providing his vocal stylings for the Tommy Dorsey band. He signed his first solo deal with Columbia Records in 1943 and immediately became a teen idol despite being in his late twenties.
He released his first solo album The Voice of Frank Sinatra in 1946 and by the early 1950s he had turned his attention to lucrative live dates in Las Vegas where he headed the notorious Rat Pack with friends and fellow singers Dean Martin and Sammy Davis Jnr.
Sinatra turned to acting in film in 1953, starring in From Here to Eternity with Hollywood heavyweights Burt Lancaster, Deborah Kerr and Montgomery Clift for which he received a Best Supporting Actor Academy Award. He then signed to Capitol Records and released several albums in short succession including In the Wee Small Hours (1955), Songs for Swingin' Lovers! (1956) Come Fly with Me (1958), Only The Lonely (1958) and Nice 'n' Easy (1960).
The singer left Capitol in 1961 to start his own record label Reprise Records under which he released several successful albums. In 1965 he recorded two classic songs that would remain staples of his live set – My Way, penned by Paul Anka and Strangers in the Night written by Bert Kaempfert, Charles Singleton and Eddie Snyder.
In early 1966, he recorded Sinatra at the Sands at the Sands Hotel and Casino in Vegas with his frequent collaborator Count Basie, and the following year he recorded one of his most famous collaborations with Tom Jobim, the album Francis Albert Sinatra and Antonio Carlos Jobim. This was followed by a 1968 collaboration with Duke Ellington.
The crooner retired for the first time in 1971, but it was to be short-lived as came out of retirement two years later and recorded several albums and resumed performing at Caesars Palace in Las Vegas. His repeated returns to the Strip raised speculation of ties to the US Mafia, rumours that Sinatra did little to dispel, being photographed with reputed mobsters Tommy 'Fatso' Marson, Don Carlo Gambino 'The Godfather', and Jimmy 'The Weasel' Fratianno during his residency in the entertainment resort.
In 1980 he scored a Top 40 hit with "(Theme From) New York, New York". He then used his Las Vegas shows as a home base and toured both within the US and internationally. Still wanting to remain relevant to a youthful audience he recorded the album Duets in 1993 where he refashioned his old standards including Summer Wind, The Lady is a Tramp and I've Got You Under My Skin with musical luminaries including Luther Vandross, Liza Minnelli and Bono from U2.
A lady's man
Sinatra had several high-profile romances in his life and was married four times during his life.
His first wife was Nancy Barbato, whom he met when he was 19 and married in 1939. They divorced in 1951, after he admitted to an affair with Hollywood starlet Ava Gardner. Sinatra married Gardner in 1951, and filed for divorce in 1954. However, the couple did not officially separate until 1957.
Sinatra's third wife was ingénue actress Mia Farrow, who he met when he was 50 and she was just 21. The couple married in 1966. The singer served her divorce papers on the set of the Roman Polanski film Rosemary's Baby in 1968.
His final wife was Barbara Marx – the ex-wife of Zeppo of the Marx Brothers – whom he married in 1976.
He was linked with several other women throughout his life including Hollywood stars Lana Turner, Lauren Bacall and Marilyn Monroe.
He had three children with Barbato: Nancy, Frank Sinatra Jr. and Christina 'Tina' Sinatra. On 8 December 1963, his son was kidnapped and the singer paid the kidnappers a $240,000 ransom demand. He offered $1m, but the kidnappers strangely turned down this offer. Frank Sinatra Jr. was released unharmed a few days later.
Julie Sinatra (born Julie Ann Maria Lyma on February 10, 1943) also claimed to be Sinatra's daughter, and speculation has been rife that Ronan Farrow may actually be Sinatra's son, although neither claim has been proven.
Sinatra died on 14 May 1998 in Marx's arms at their home in West Hollywood Los Angeles.