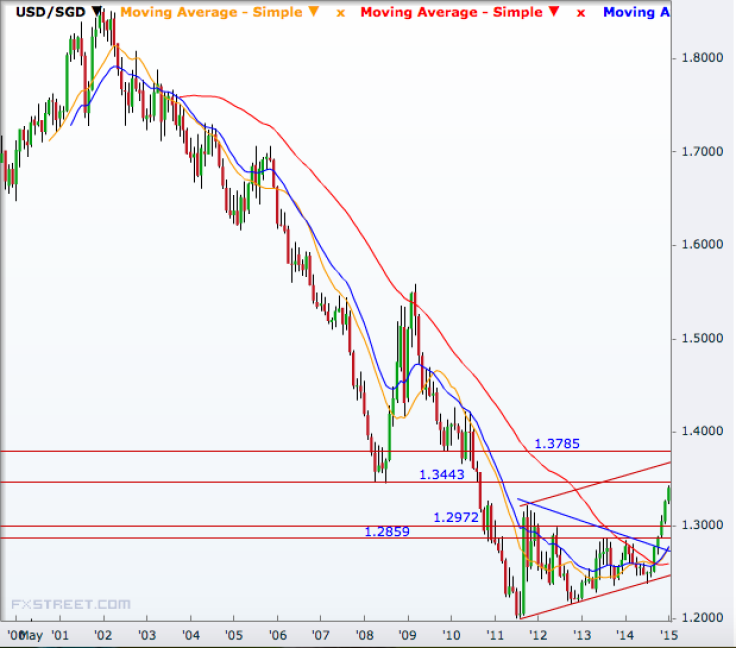 Singapore saw consumer prices falling for the second straight month in December on a year-on-year basis weighing down the Singapore dollar which has been hovering near a 4-1/2-year low against the greenback.
The consumer price index fell 0.2% from a year earlier in December, data showed on Friday, lesser than the 0.3% fall in November, which was the first deflation reading in Singapore in five years.
Prices fell on month-on-month too. The index fell 0.2% in the last month of 2014 after rising 0.3% in the previous month.
The USD/SGD traded at 1.3404 after the data, further distancing from the two-week low of 1.3216 touched on 15 January, and closer to the multi-year high of 1.3419 touched on 7 January.
Dovish surprises from the rest of the developed economies have been deepening the dollar divergence versus the respective currencies, adding to the overall strength of the US currency and spilling over to the rest of world currencies.
The US dollar index rallied to a new 12-year high of 94.50 on Thursday, making a 1.8% jump on the day, after the European Central Bank announced that it will inject as much as 1.1 billion euros to shore up and reflate the economy.
The Bank of Canada had surprised markets earlier this week with a 25 basis points cut in the main rate citing deepening disinflation trend and weakening growth prospects.
The EUR/USD fell to a new 11-year low of 1.1313 on Friday adding to the 1.8% drop on Thursday. The USD/CAD made a 2% jump on 21 January after the BoC rate cut and is now at a near six-year high.
Charts show that the USD/SGD has further upside room within the current upward channel. The first resistance seen on the monthly chart is 1.3443 ahead of 1.3785. On the downside, the 1.2972-1.2859 area makes an important support zone, a break of which will weaken the uptrend that began in mid-2014.