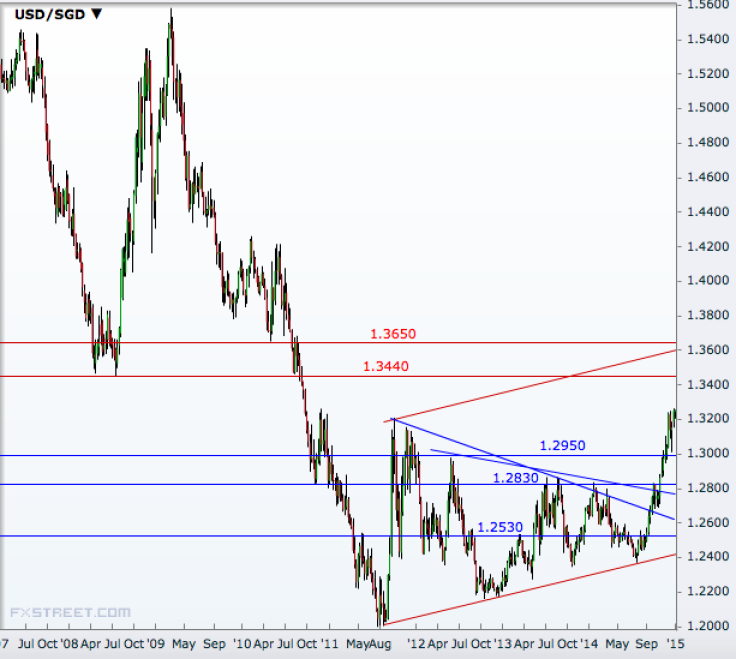 The Singapore dollar has fallen to a new four-year low in the last week of the year adding to the upward momentum of the USD/SGD pair which has broken a triangle pattern in late October and started shaping up a big upward channel that can be traced back to September 2011.
The first half of 2014 saw the Singapore currency strengthening, but after hitting a nine-month high of 1.236 in July, it reversed the direction, and at the weakest point this week, the local dollar was 4.2% down.
The pair now look at big levels like 1.3440 and 1.3550 as immediate resistance levels within the channel. However, with the upswing in the USD/SGD, since July being the largest off the channel support after the late 2011 rally, the pair could see a reversal within the channel.
In that case, 1.2950 and 1.2830 will be the first two levels to offer meaningful support, but a break of the 1.26-1.25 region will also increase the likelihood of levels lower than the 2014 lows.
If that happens, the Singapore dollar could rally to new highs near 1.20, which was slightly broken in July 2011. However, with the US dollar fundamentally strong, positioning will most likely be skewed towards short SGD.