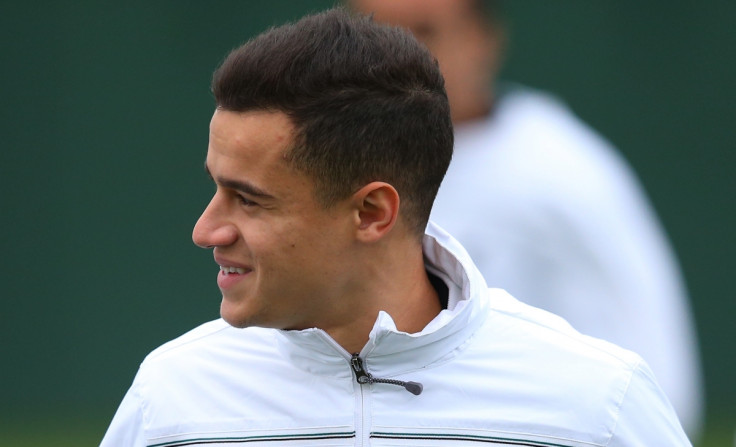 Liverpool playmaker Philippe Coutinho has been included in the squad to face FC Sion in the club's final Europa League group game, following four matches out with a hamstring injury. The Brazil international took full part in training prior to the Reds travelling to Switzerland and is expected to be involved in some capacity on Thursday (10 December).
The 23-year-old has not featured since going off during the 4-1 win over Manchester City at the Etihad Stadium on 21 November, absent for the wins over Bordeaux, Swansea City and Southampton as well as the 2-0 loss to Newcastle United at the weekend. Prior to the injury blow Coutinho had scored five goals and made three assists in all competitions.
A positive update regarding Coutinho's condition is a welcome boost for manager Jurgen Klopp, who is expected to confirm in his pre-match press conference to preview the game in Sion the extent of damage suffered by Daniel Sturridge. The Guardian claims the England international is sidelined with a hamstring injury and is likely to miss the remainder of the year.
Victory for Liverpool in Switzerland will guarantee they progress to the knock-out phase of the Europa League as winners of Group B, avoiding the seeded teams dropping down from the Champions League in the draw for the last 32. Among the players who has benefited from the club's recent run of injuries is Divock Origi, who netted a hat-trick in the win over Southampton at St Mary's.
"It shows what kind of big quality we have in the group," the Belgian said of Liverpool's strength in depth, according to the club's official website. "We mustn't forget we are still young and we are still trying to work out things together, so as a team we are learning every week and every day.
"For me personally, it's good to be in a team like this and I think I'll have my chances [again] soon, so I am very excited. The thing for me was to come here and learn. The most important thing was to progress and so I just try to learn and pick things up in training and any games I get.
"It wasn't easy to come here, to a new country, a new system and a new type of football, but I've adapted and I'm ready to feature in games to come. We all know Anfield is a nice place to play and to be able to score there would be a dream, so I am doing everything to try to do that but I have to patient. If I stay calm then my time will come."