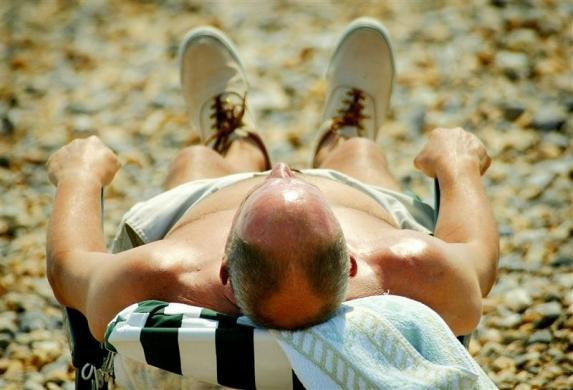 The UK is set for a six-week period of beautiful weather, according to the Met Office's latest report.
Following the wettest winter on record, our summer is coming earlier than normal with temperatures expected to soar above 20 degrees for the second half of April and May.
The report reads: "Latest predictions for UK-mean temperature favour above-average temperatures for April and April-May-June as a whole."
Tim Thorne, from the Met Office, added: "The Met Office three-month outlooks are experimental and form part of our research and development.
"It provides an indication of possible temperature and rainfall conditions over the next three months for the UK as a whole."
The Met Office said the UK record for May high temperatures is 91F (32.8C) recorded in London, Kent and West Sussex, in 1922 and 1944.
Jonathan Powell, forecaster for Vantage Weather Services, said next month, however, could break all records with weeks of sunshine across the country.
He said: "May is looking absolutely fantastic with a strong possibility we could see records broken in terms of temperature and sunshine."
"Through the summer there is a distinct possibility of seeing dramatic spikes in temperature lasting right through the season, with cooler spells either side.
It comes amid warnings from Met Office scientists that deadly heatwaves like the one that swept Europe in 2003, could be the norm by 2040.
But Prof Stephen Belcher, head of the Met Office's Hadley Centre said warmer summer temperatures will also be accompanied by heavier downpours as warm air holds more moisture.
He added: "There is evidence that in the UK we are seeing more heavy rainfall."