Sky has launched Go Extra, which lets customers download films and TV shows and watch without the need for a Wi-Fi or 3G connection.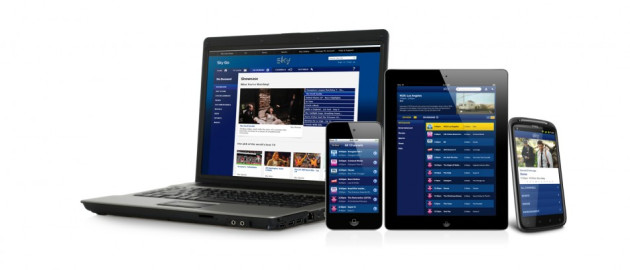 The UK satellite operator Sky has launched Sky Go Extra, a new on-demand video service that allows subscribers to download and view content on mobile devices and computers.
The new service will cost £5 per month, and allow up to four users to download programmes in line with one existing Sky subscription. Sky already operates a streaming service, but this is the first time it has allowed its customers to view content off-line. Once downloaded, content such as feature films and TV shows will remain available for up to 30 days.
"The new service complements our existing Sky Go offering," a spokeswoman for Sky said. "This is the first time that feature films have been made available to watch anywhere."
The move by the UK's most profitable broadcaster is a reaction to the success of streaming services such as Netflix and LoveFilm, whose instant access to a library of 1,000s of films and TV programmes for a flat fee of around £5 per month poses a threat to Sky's subscription-only movie channels, which cost around £10 per month (depending on package chosen).
Customers will be able to download films from Sky's Movie channels as well as certain content from Sky 1 and Sky Atlantic.
However, since the new service will come at additional cost to any existing subscription, Sky is gambling that the prospect of viewing on mobile devices when not connected to the internet will prove attractive to new customers, as well as its existing subscribers. Sky claims not only that that the service will be the first of its kind in the UK, but also that 70 percent of hit movies appear on Sky before they are available to their rivals.
Internet broadcasting in the UK is currently dominated by the BBC's free iPlayer service, which has been estimated to be responsible for up to 10 percent of all UK internet traffic, and which is available on a host of devices, including mobile phones, tablets, games consoles and smart TVs. Sky currently offers a free streaming service, and a catch-up download service that includes the iPlayer, via its Sky + boxes.
The new Sky Go Extra service will be the first time that Sky has allowed recorded programmes to be watched on devices other than its set-top boxes.
Stephen van Rooyen, Managing Director of Sales & Marketing at Sky, said: "Building on the ever-growing popularity of Sky Go, Sky Go Extra lets Sky customers download great movies and TV shows to take with them to watch offline whenever and wherever suits them, as well as access to Sky Go on up to four internet-connected devices. Together with our comprehensive On Demand service and our range of award-winning apps, we continue to deliver helpful and innovative ways for Sky customers to enjoy even more flexibility over when, where and how they enjoy Sky."
Sky Go is currently available for laptops and PCs, iOS devices such as the iPhone and iPad and a limited number of Android smartphones and tablets. As well as announcing the launch of the Go Extra service, Sky also announced it will be extending support for two new Android smartphones and one new Android tablet: HTC One X+, the Motorola RAZRi and the Samsung Galaxy Tab2 7.0.
To activate the new service, customers will need to go to the Sky website and the service will then be available within the Sky Go app, and will appear as an update to the app in the respective app stores.