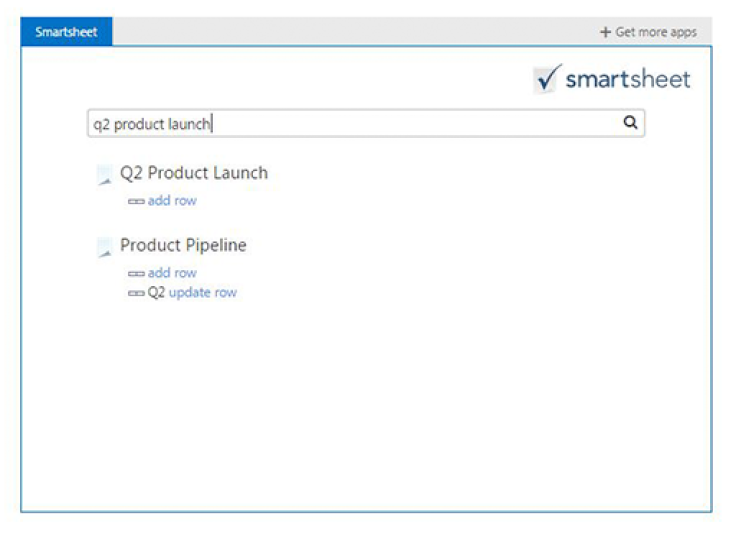 Microsoft which showcased the Smartsheet for Outlook app in the ongoing Build 2015 conference has now made the application available in the form of a beta which can be downloaded for free.
What's new?
Smartsheet for Outlook allows users to create or edit items in Smartsheet and collaborate on them in real-time, all without leaving the Inbox. Users can collate/integrate all important information in Smartsheet - project tasks, change requests, resumes, customer requirements and more.
Key features of the latest Smartsheet beta are:
Convert any e-mail into a shared item that instantly appears as a row in your Smartsheet project or sheet for all collaborators to see and act on
Create or edit a Smartsheet item or task, then assign it to someone, schedule it, or add comments and other relevant details contained in your email
Keep the entire email as a discussion associated with your Smartsheet item
Search Smartsheet for the right sheet or project
Add all or selected email attachments to your Smartsheet item
Compatibility
Smartsheet for Outlook is supported for the Outlook Web App and Outlook 2013 (Windows)
Smartsheet for Outlook relies on Smartsheet, which is a subscription-based service. Sign up for a Smartsheet free trial from the Smartsheet for Outlook app.
How to use Smartsheet
1. Import an existing MS Excel sheet
2. Import an existing MS Project file
3. Start with a Smartsheet customisable template, some examples include:
Project Management Templates: Basic Project with Gantt Chart & Dependencies, Gantt Project with Hard Deadline
Task Management Templates: Team Task List by Priority, Recurring Task List
Event Planning Templates: Event Task List with Gantt Chart and Budget, Simple Event Task Plan
Agile Project Management Templates: Basic Agile Project with Gantt Timeline
Sales Templates: Simple Sales Pipeline, Sales Activity Tracker by Week
Finance Templates: Expense Report, Monthly Budget Tracker, Balance Sheet
HR: New Hire Checklist, Employee Info Tracker
Recruiting: Job Candidate Tracker
Marketing Templates: Marketing Campaign Analysis Rollup, SEO Checklist