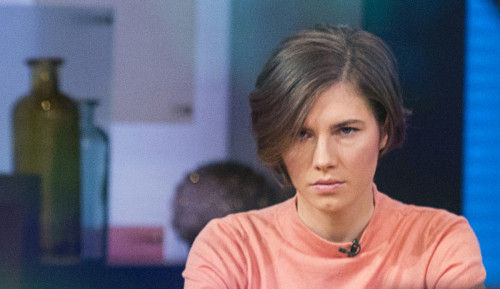 Convicted killer Amanda Knox has been offered work as a porn actress since hitting the headlines again over the murder of student Meredith Kercher.
Adult entertainment firm Monarchy Distribution has contacted the 26-year-old about a "unique opportunity" to pay her $20,000 to cover her soaring legal bills.
Italy's Supreme Court ordered a fresh retrial of the appeal involving Knox and her former boyfriend Raffaele Sollecito, who were previously charged with murdering and sexually assaulting Meredith, and the pair were re-convicted last month.
Describing her devastation at the verdict, Knox said it felt like "being hit by a train."
Shortly afterwards, Monarchy founder Michael Kulich wrote her an email, seen by Daily Dot. It read: "As you may have read, and were mostly likely well aware of, the general consensus is you are absolutely smoking hot.
"Since you came back into the headlines, our loyal fan base has been e-mailing us non-stop asking about you."
He continues to explain how she would have the final say over all terms of production, which sex acts she performs and who she might want to work with.
Kulich added: "This is a great opportunity for you to make some money to put towards finishing your education and also future legal costs to help with this unfortunate retrial."
Last year the company offered a similar opportunity to shamed former IAC PR executive Justine Sacco after she posted racial remarks on Twitter.
Just before boarding a flight to Africa on 22 December, she tweeted: "Going to Africa. Hope I don't get AIDS. Just kidding. I'm white!"
When she landed in South Africa she was greeted by journalists and photographers at the airport. She was promptly fired by IAC CEO Barry Diller.
After the incident, Kulich offered Sacco $10,000 to appear in an adult film with the title Justine's African Vacation.
He also saw an opportunity when disgraced former Congressman Anthony Weiner hit the headlines following his X-rated social media habits.
Kulicher produced a movie called Don't Pull Out and offered to donate 15% of the profits to Weiner's mayoral bid to become mayor of New York.
This is not the first time the adult film industry has tried to capitalise on Knox's noted sex appeal. In 2011, Vivid Entertainment CEO Steven Hirsch offered her an unspecified sum to serve as a spokeswoman for Vivid at trade and retail events, a job that required "no nudity or sex".