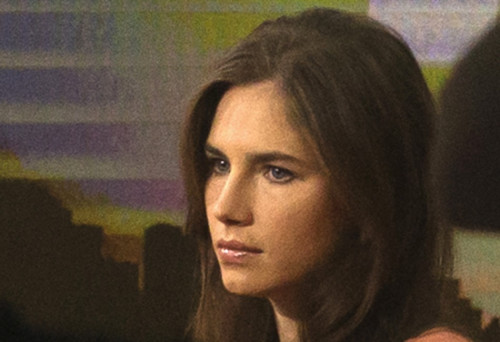 Italian appeals court has convicted US citizen Amanda Knox, and her Italian former boyfriend, of murdering British flatmate in 2007.
She and her former boyfriend have been found guilty of killing Meredith Kercher, for a second time, after having been acquitted on appeal in 2011 for lack of evidence.
Knox and Raffaele Sollecito, her ex-boyfriend, were first convicted of the murder in 2009, when prosecuteors had alleged that the couple killed Kercher in a sex game gone awry.
The victim, Meredith Kercher, 21, was a student at University of Perugia, Italy, and shared a flat with Knox, then 20.
TIMELINE OF EVENTS:
2 November, 2007: Kercher is found lying in a pool of blood, in the apartment she shared with Knox. She was sexually assaulted and brutally stabbed to death the night before.
6 November, 2007: Knox, boyfriend Sollecito, and Patrick Lumumba, pub owner where Knox worked, were held under temporary detention for the duration of trials.
20 November, 2007: Knox had implicated Lumumba, but he is released for lack of evidence.
6 December, 2007: Another suspect Rudy Hermann Guede, an Ivory Coast citizen, who is also a drug dealer, is extradited from Germany in connection with the case.
October, 2008: Guede, who had met Kercher a few days ago was convicted of sexual assault and murder as his DNA was found on Kercher. He was sentenced to 30 years in prison.
Knox and Sollecito are also indicted on the charges of murder and sexual assault.
5 December, 2009: The couple are declared accomplices in sexual assault, murder and faking evidence of burglary. Knox is sentenced to 26 years in prison, and Sollecito to 24.
Knox faces multiple charges including slander, and falsely implicating Lumumba.
Guede's sentence is cut short to 16 years under appeal after Knox and Sollecito are co-implicated in the case.
1 June, 2010: Additional charges are levelled against Knox for falsely accusing police of mistreating her in custody. She had alleged that police hit on her head, and denied her food, water, and an interpreter.
24 November, 2010: Perugia Court accepts appeal against the conviction of Knox and Sollecito.
February 2011: Lifetime airs their own interpretation of the case in the form of story. Critics say that there are various inconsistencies in the portrayal of events, leaning towards a pre-conceived judgement on the case.
29 June, 2011: DNA evidence used to convict Knox and Sollecito found unreliable by an independent forensic report ordered by the appeals court.
3 October, 2011: The convictions are overturned by Italian appeals court. Knox and Sollecito are found innocent and released from prison immediately. Knox returns home to US.
18 September, 2012: Sollecito releases a book, Honor Bound in which he says that both he and Knox are innocent, but that her behaviour overtly exuberant behaviour at the police station made her a suspect.
26 March, 2013: Florence court overturns the acquittal, saying that the mystery remains unresolved, and that there were several gaps in the process of arriving at the earlier verdict.
A new trial is ordered.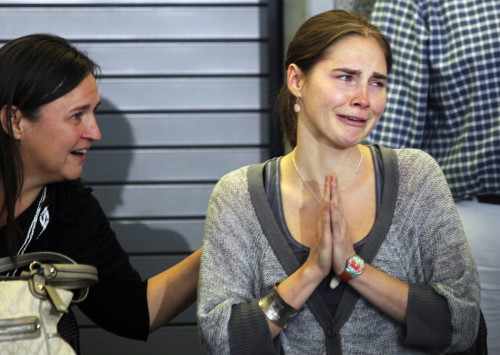 30 September, 2013: Florence appeals court opens third trial of Knox and Sollecito.
30 January, 2014: Know and Sollecito are again deemed guilty in the murder, and sentenced to 28½ years and 25 years in prison respectively.
However, Know is not likely to be extradited to Italy.