Taylor Swift appears to be ready to launch her new music. The Bad Blood singer has returned to Instagram and Twitter with a cryptic video that suggests she may fire back at her celebrity rivals, such as Katy Perry and Kim Kardashian, on her next album.
In the captionless 10-second clip, shared on 21 August, a snake is seen slithering around against a black background ,leaving everything to the imagination. Comments beside the video have been turned off on Swift's Instagram but that has not stopped fans from running wild on Twitter with theories about the mystery snake.
The most common opinion seems to be that Swift, 27, will slam her haters through the music after remaining silent on her high-profile feuds since last year. Excitedly sharing their theory, one fan commented: "B***H TAYLOR SWIFT IS ABOUT TO DROP THIS KIM KARDASHIAN DISS TRACK AND I'M ALREADY SHOOK!"
Another predicted: "Taylor Swift coming with a tea album.. she gonna drag Kim K and Katy Perry, just sit, sip and watch."
Watching at the edge of their seat was another fan who tweeted: "MY GOD TAYLOR!!! IF THAT IS A SNAKE SHE HAS TO BE GETTING BACK AT KIM AND EVERYONE THAT CALLED HER A SNAKE AND EVERYONE THAT LEFT HER!"
Imagining Swift's voice, another added: "'Hey it's taylor, taylor swift, i'm about to tell you the story of my life, more specifically why Kim's careers ended' #TS6ISCOMIMG."
Amongst the hysterical Swifties was celebrity blogger Perez Hilton, who chimed in to stir the pot by simply tagging Kardashian and Perry to the video.
Perry, 32, is assumed to be Swift's prime target in light of their ongoing and bitter feud. Their row reached fever pitch in 2015 when Swift released the track Bad Blood, which was said to be written about Perry.
Addressing the highly-publicised fallout, Perry told SiriusXM Hits 1 in a new interview: "Listen, I'd love for the beef to end. I'd love to take if off the BBQ. I'm down, but I haven't heard anything of it."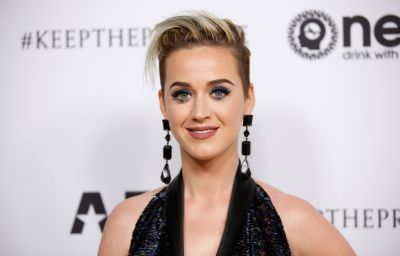 Kardashian, 36, is also a possible target after she 'exposed' Swift for allegedly lying about giving Kanye West permission to mention her in his song, Famous. Through a series of explosive Snapchat videos in July 2016, Kardashian leaked recorded phone calls between Swift and West in which the Shake It Off singer appeared to give the rapper consent to give her a name-drop.
Swift sent fans into a frenzy on 18 August when she deleted her entire Instagram and Twitter feeds. A source has allegedly confirmed to Us Weekly that Swift will release her brand new song on Friday (25 August). An insider told the publication: "The song is poppy. She's being very secretive about it, but it's going to be a really good one."
The track will lead Swift's sixth studio album following the release of her number one, best-selling fifth album, 1989, in November 2014.
Listen to Taylor Swift's Bad Blood music video: