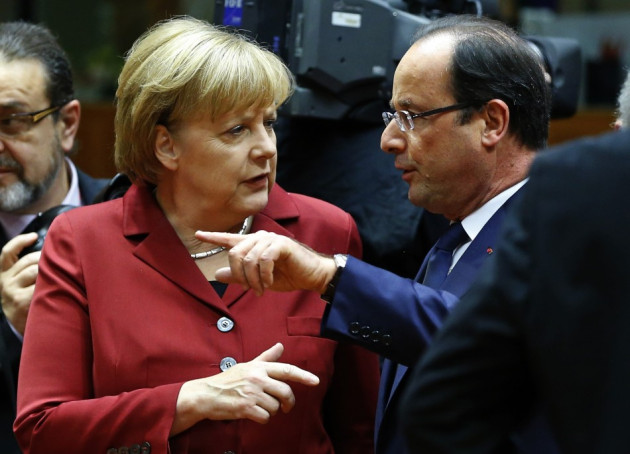 Angela Merkel has said France and Germany want talks with the US over Washington's alleged snooping activities, even as fresh disclosures of NSA surveillance on world leaders emerge.
Following claims that US intelligence was eavesdropping on Merkel's telephone conversations, the German chancellor has urged the US to agree a "no-spying" deal with its European allies.
"That means a framework for cooperation between the relevant [intelligence] services. Germany and France have taken the initiative and other member states will join," Merkel said following the EU summit in Brussels that was dominated by NSA snooping allegations.
The US already has a "no-spying" agreement with Britain, Australia, Canada and New Zealand.
It was revealed earlier that NSA had snooped on millions of phone calls of high-profile French nationals, prompting a sharp response from France.
Shortly after the France-Germany announcement, the EU leaders also expressed support for Merkel's initiative.
Meanwhile, the Guardian has revealed that the US tapped the telephone calls of 35 world leaders, citing secret documents leaked by whistleblower Edward Snowden.
According to the documents, the NSA encouraged top American officials in key departments such as the White House, State Department and Pentagon to share their "rolodexes" for the benefit of the intelligence agency.
"In one recent case, US officials provided the NSA with 200 phone numbers to 35 world leaders ... Despite the fact that the majority is probably available via open source, the PCs [intelligence production centres] have noted 43 previously unknown phone numbers. These numbers plus several others have been tasked," according to an NSA memo dated October 2006. It was during the second term of George Bush.
None of the leaders snooped on by the agency have been revealed in the confidential memorandum. However, the latest revelation is bound to have more repercussions for the US as it is already struggling to control the damage done by the NSA disclosures.