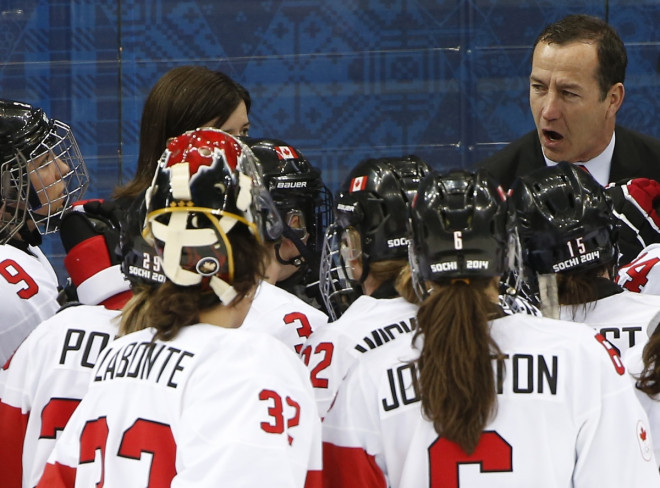 Canada and USA battle for the Gold in the final of the Women's Ice Hockey at the Bolshoy Ice Dome on Thursday.
Where to Watch Live
Opening face-off is set for 5:00pm GMT. Live coverage of the game will be available on BBC2, red button 2, radio and BBC Online.
Overview
Canada and the US will take to the ice once again in pursuit of a gold medal like they did at Vancouver in 2010 when the former emerging 2-0 victorious.
The Canadians progressed to the final after edging Switzerland 3-1 in the previous round. The defending champions stormed into a 3-0 lead in the first period with Natalie Spooner bagging a brace before Melodie Daoust added another. However, they failed to add any more as rival goalie Florence Schelling blocked everything the attackers threw at her.
Kevin Dineen's side have a perfect record in Russia so far winning all their fixtures scoring 14 goals so far.
On the other end, the US gained revenge against Sweden for the reversal in 2006 Winter Olympics by thrashing the sixth ranked team, 6-1 in the semi-final.
Alex Carpenter opened the scoring in the first period while Kacey Bellamy and Amanda Kessel added to their tally to make it 3-0 in the first 20 minutes which saw Katey Stone's side make 29 attempts on the opponent's goal.
The second period saw the US add two more goals to make it 5-0 with Monique Lamoureux and Megan Bozek getting their names on the score sheet. The third period saw both teams get one goal each as Brianna Decker slammed home her side's sixth in four minutes after Anna Borgqvist had pulled one goal back for the Swedes.
Both North American sides clashed in the preliminary stages of the competition with the Canadians emerging 3-2 victorious to top Group A.
With both teams set to lock horns on the ice once again, what remains to be seen is whether history will repeat itself or will the US justify their number one ranking in the world and overcome the defending champions for the gold medal!
Team Form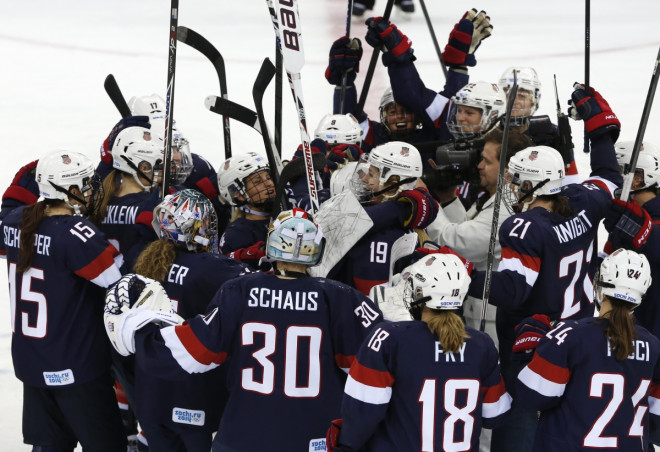 Canada
In Sochi 2014 (Last Four, most recent first): W W W W
Last Result: Canada 3-1 Switzerland
USA
In Sochi 2014 (Last Four, most recent first): W L W W
Last Result: USA 6-1 Sweden
Team News
Canada
Goaltenders: Charline Labonte; Shannon Szabados
Defenders: Catherine Ward (+A), Tara Watchorn; Lauriane Rougeau, Laura Fortino; Jocelyne Larocque, Meaghan Mikkelson
Forwards: Rebecca Johnston, Jayna Hefford, Marie-Philip Poulin; Meghan Agosta-Marciano, Hayley Wickenheiser (+A), Natalie Spooner; Jennifer Wakefield, Gillian Apps, Melodie Daoust; Caroline Oullette (+C), Brianne Jenner
USA
Goaltenders: Jessie Vetter; Molly Schaus
Defenders: Gigi Marvin, Kacey Bellamy; Megan Bozek, Anne Schleper; Michelle Picard, Josephine Pucci; Lee Stecklein
Forwards: Kelli Stack, Hilary Knight, Alex Carpenter; Brianna Decker, Kendall Coyne, Amanda Kessel; Monique Lamoureux, Meghan Duggan (+C), Jocelyne Lamoureux; Julie Chu, Lyndsey Fry