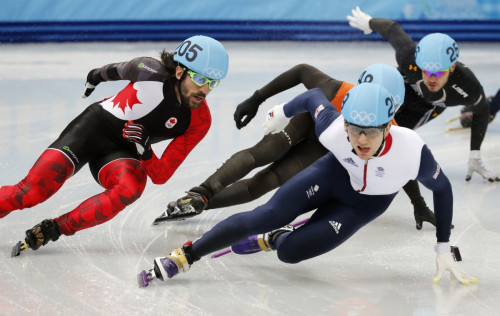 Great Britain's Jack Whelbourne failed to finish in the men's Olympic 1500m short track speed skating final after falling with three laps remaining in Sochi.
The 22 year old from Nottingham went in pursuit of Britain's second speed skaing medal but was tripped mid-way through the contest, with Canada's Charles Hamelin eventually taking gold.
China's Tianyu Han and Russian home-favourite Victor An claimed silver and bronze respectively but injury to Whelbourne, who had earlier sauntered through the preliminary rounds, throws into doubt his participation in the 500m and 1000m events.
"Unfortunately a block got under my foot and I toed in, which has given me a twisted ankle but we don't know how it is," Whelbourne said.
"It can be quite common in the sport. The block move, we have seven and up to eight people racing with tight-knit overtakes, so it happens quite a lot.
"This time it happened to me, unfortunately when I was in my best form.
"But I'm really pleased with my performance today, especially setting a new British record in the first round. I'm definitely getting back on the ice, if I can."
Meanwhile, British pair Elise Christie and Charlotte Gilmartin qualified through the first round of the women's 500m event.