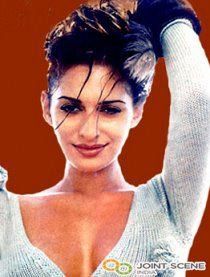 The partner of the late West End and Coronation Street star Sophiya Haque has spoken in public for the first time since her death from cancer last week.
Music director David White, 51, spoke of his shock at the speed of Haque's deterioration, and revealed the couple had only just completed their dream boathouse on the Basingstoke Canal in Surrey.
"We managed to spend a few precious nights on the boat together before she went to hospital," White told the London Evening Standard.
Haque, 41, was only diagnosed with cancer in December. White revealed that his partner of six years had previously been "extremely fit and healthy", but began suffering tremendous backache and abdominal pain, prompting the visit to the doctor which culminated in her diagnosis.
Haque continued to perform in the West End musical Privates on Parade until 22 December, and was admitted to hospital as recently as 2 January.
White revealed that his partner "had that 'show must go on' mentality", adding that her condition deteriorated rapidly after her final performance three days before Christmas.
"We hit this awful situation around Christmas and New Year when everything is closed, so we didn't get a doctor's appointment until January 2, and we were told to go straight to hospital," he said.
Doctors who treated Haque believe the cancer may have been grown for months internally without any symptoms.
"She was having huge trouble breathing while she was in hospital. Apparently a blood clot could have been thrown up into her lung. Her heart was beating very fast to try and get oxygen into her system," White said.
"It became harder for her to breathe and she blacked out. A few minutes later her heart stopped. It was not something I expected that day. It was a terrible shock."
Although it is still unclear exactly which cancer Haque suffered from, White said the doctors believe it might have been ovarian cancer, as there were hardly any symptoms until just before her death. He continued:
"The second set of results came back inconclusive the day after she died. I still want to know what the cancer was, although I am coming to terms with the fact that nothing is going to bring her back
"Life with Sophiya was absolutely wonderful. She was the most amazing person to live with. It was a life full of laughter and joy,"