Nearly 70 years after the end of the second world war, a new Hollywood movie celebrates the lives of The Monuments Men – a wartime group of soldiers who enlisted not to fight the Nazis but to save the monuments, fine arts and archives they loved.
The film tells the story of the men who worked for the Monuments, Fine Arts and Archives (MFAA) division of the Allied Armies during the second world war. The men of the division were responsible for saving pieces of art and other culturally important items from destruction by Hitler.
The film is due for release in February. It is directed by George Clooney, who also appears in the all-star cast alongside Matt Damon, Bill Murray, John Goodman, Jean Dujardin, Bob Balaban, Hugh Bonneville and Cate Blanchett.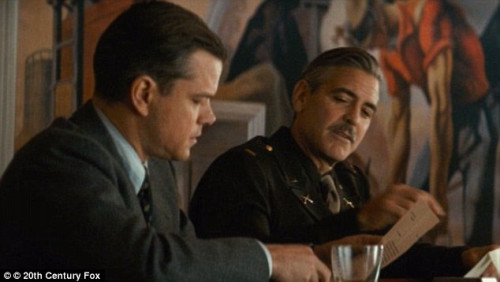 The film focuses on an Allied platoon made up of seven museum directors, curators and art historians who are sent into Germany during the closing stages of the second world war to rescue artworks requisitioned by the Nazis.
But the family of one member of the division, Ronald Balfour, has criticised the movie's producers for deciding to replace him with a fictional character, and deliberately ignoring the role that Balfour, who is honoured in Germany and remembered with gratitude by the people of the Netherlands, played in saving European treasures.
Speaking to the Mail on Sunday, his niece Virginia Cardwell-Moore said: "Ronald was a brilliant man who might very easily have stayed at home during the war. He was over-age and arguably someone whose skills would be much needed later. It was his choice to enlist and his work with MFAA gave him an enormous amount of pleasure and satisfaction. So, while his death was a tragic waste of life, he might well have felt it worthwhile."
Balfour, who was 41 when he died, was one of only two Monuments Men killed during the war, while curating objects in 14th century Collegiate Church of Cleve, just across the Dutch border in Germany. The other, American architect Walter Huchthausen, was shot near Aachen in April 1945.
The Monuments Men will be released in the UK on 14 February. Watch the official trailer below.