Turkey Soma Mine Disaster: Angry Protesters Force PM Erdogan to Take Refuge in Shop
Turkish prime minister Recep Tayyip Erdogan was forced to take refuge in a shop in Soma, the small town where 238 miners died after an underground explosion, as furious relatives besieged him.
A video that emerged online showed Erdogan being booed, whistled and heckled by an angry mob before he was escorted to a shop by his security team to escape them.
According to some reports, some people kicked his official car and while a crowd smashed up the local headquarters of the ruling AK Party.
Chants of "Murderer" and "Thief" erupted around him along with demands that he to resign. Eight relatives of dead miners were reportedly arrested in Soma for shouting insults.
Commentators agreed that the protests were triggered by Erdogan's controversial remarks that labour accidents such as the coal mine explosion in Soma were "normal".
He said coal mine explosions were a regular occurrence around the world, citing incidents in Britain from the 19th century and accidents in China and Japan in the 1940s and 1960s.
Public anger has been fuelled by accusations that Erdogan's ruling AK Party dismissed a parliamentary motion submitted by the opposition Republican People's Party (CHP) to investigate safety in the Soma mines as recently as 29 April.
Erdogan rebutted the criticism, saying that the CHP motion had "nothing to do with the Soma mine."
According to Turkey's Mine Workers Union, between 2000 and 2009 there were 25,655 accidents in mines run by the government agency, resulting in 63 deaths and 26,324 injuries.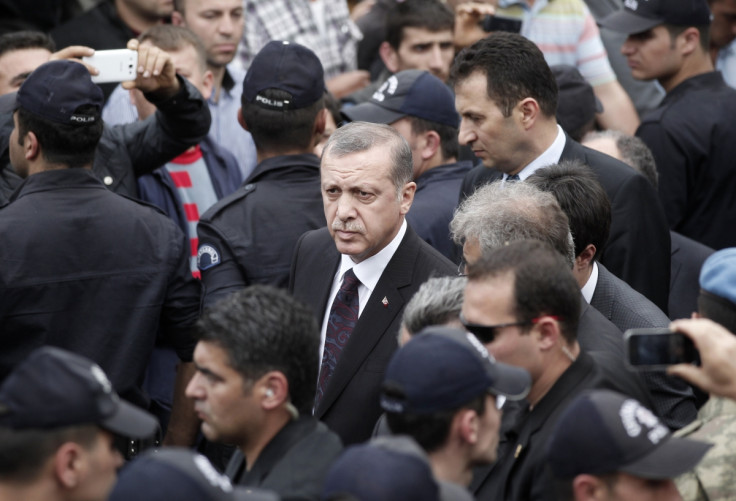 © Copyright IBTimes 2023. All rights reserved.