Protests against Soma Holdings, the company that owns the coal mine where an explosion killed more than 200 miners, have spread across Turkey. In Ankara, police fired teargas and water cannon to disperse a group who tried to march to the energy ministry to protest the deaths.
In Istanbul, demonstrators staged a "lie in" protest, pretending to be dead miners.
Hundreds of activists gathered outside the headquarters of the company which owns the mine, Soma Holding.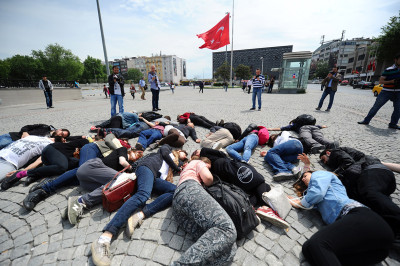 The country's main opposition party said Prime Minister Recep Tayyip Erdogan's ruling party had recently voted down a proposal for the establishment of a parliamentary inquiry into a series of small-scale accidents at mines around Soma.
Erdogan postponed a foreign trip and visited the mine in Soma. He said the incident would be investigated to its "smallest detail" and "no negligence will be ignored".
Tensions were high as hundreds of relatives and miners stood outside the mine. The crowd shouted at officials and some wailed each time a body was brought up. A heavy police presence was in place around the mine.
Erdogan warned that some radical groups would try to use the disaster to discredit the government.