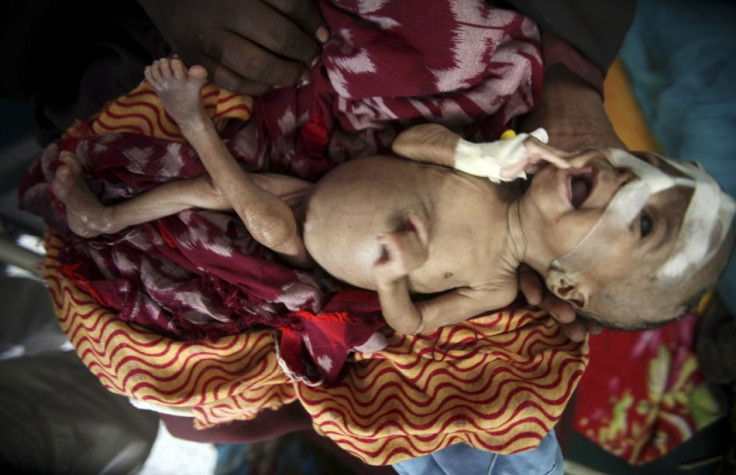 African Union peacekeepers in Somalia have captured three "strategic" locations from al-Shabaab, the al-Qaeda- linked rebels in the capital, Mogadishu, who last week denied it had accepted to lift a ban allowing aid workers to provide assistance to people in the famine-struck country, it was reported on Thursday.
The positions of Florenza, Sinai and Monopolio Junctions in northeast Mogadishu were seized after a "highly targeted" security operation in the city, the African Union Mission in Somalia said in an e-mailed statement today.
The organisation also confirms that forty one civilians, previously being detained by al-Shabaab were freed in the raid.
While there is no casualty number announced as of yet, medical officials said that at least 50 people were wounded.
"Our troops have dealt with specific security threats in a short tactical offensive operation," Amisom, the Afican Union mission in Sommalis has said, adding that the action will "ensure that aid agencies can continue to operate and get vital supplies to internally displaced persons."
Somali Prime Minister Abdiwel Mohamed welcomed the advances by the African Union peacekeepers and added the government is determined to oust the rebels.
"I assure you that we will clear out these terrorist elements from Mogadishu in a short period," Mohamed said.
Lt Col Paddy Ankunda, a spokesman for the 9,000-strong AU force in Mogadishu, also told the BBC that the A.U. " short, tactical offensive" against al-Shabab would make it easier for aid agencies to work in government-held areas.
"We fear that they [al-Shabab] may attack internally displaced people in Mogadishu, who are still in range of [their] mortars," he said.
Somalia, one of the countries the most severely affected by drought, has seen an exodus of 100,000 people who, fleeing al-Shabaab controlled area, where no help can be provided by aid groups, to go the equally ravaged capital of Mogadishu.
The new internally displaced people (IDPs) are now desperately in search and need of food, water and shelter after a drought has caused a famine that could threaten half of the country's population, according to the U.N.
The African Union forces in Somalia have now it seems taken it upon them to reduce the influence of al-Shabaab, at least in Mogadishu, where the militants have been fighting the U.N.-backed government for years.
Reports from rights groups and NGOs have indicated that the food situation in Somalia has been critical for at least three years, and many predicted it could rapidly spiral out of control, without decent rainfalls this year. Despite fears for the millions of people who are now forced to fight for survival, no massive aid campaign or joined public appeal was launched. Al-Shabaab has been causing havoc in the country for years, but yet the U.N pulled out its aid food programme due to safety concern for its staff, but did not refer the situation to the Security Council.
The refusal from the Islamist Fundamentalist group to lift its ban on food aid despite people dying every day, demonstrates just how dangerous it is, but yet, its presence on Somali soil was for years more or less tolerated by the International Community.
To resolve the situation in Somalia will take much more than an international aid appeal, given that the country has been mired by a civil war since 1991.
Deeply fractioned, with southern and central parts of the country controlled by al-Shabaab and the capital by the government, Somalia is just a façade of a state. According to reports from hospital staffs in the capital, women and children have been the most affected by the recent surge of violence, an the ever increasing number of IDPs will only contribute to increase the pressure on the government and aid agency, even after the worst phase of the famine is over.
Refugees camps, while necessary can also be dangerous, as criminals often infiltrating the premises which often end up sheltering more people that they can accommodate. Hygiene is also difficult to maintain and deceases spread much more easily as a result.
Too weak and with insufficient resources the government is unnable to provide functioning institutions, and only control 60% of the capital, leaving people to rely on themselves for survival.
Any countries without a government in charge is set to be vulnerable and unable to cope with a looming humanitarian crisis, so the only way for Somalia to truly escape famine and poverty is to get rid of al-Shabaab, to remould its political landscape and work towards the establishment of a government that does not depends on the U.N. or the A.U., but instead can stand on its own.