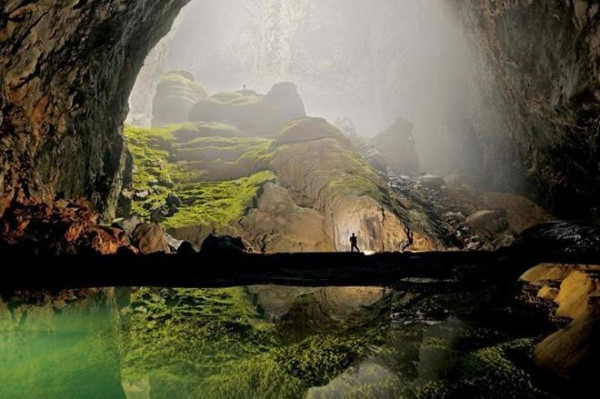 Son Doong Cave in Vietnam, the world's largest cave with an underground jungle and a river, has been opened to the public for the first time since its discovery in 2009.
The Son Doong Cave was discovered by British cavers, led by Howard Limbert, in 2009, eight years after a local man named Ho Khanh found it in 1991. Four years on, the cave was officially opened for tours in July and it will be hosting its first tourists, a batch of 220 adventure travellers, until the end of August 2014.
The Son Doong Cave which is located in the heart of the Phong Nha Ke Bang National Park in Quang Binh province near the Laos-Vietnam border is so large that a skyscraper could fit inside it, according to National Geographic.
Oxalis, a Vietnam-based adventure tour company has opened bookings for six days and seven night tour package for the world's largest cave's exploration. Oxalis is the only official operator with permission to host tours to Son Doong Cave.
"Until now no tourists have been allowed into this wonder of nature. The Government of Quang Binh Province has just approved for pilot tours in to Hang Son Doong from present till end of August 2014," the tour operator said in a statement, adding, "Two of the very best caving experts from the UK will accompany each tour of Son Doong Cave."
Son Doong, meaning mountain river cave, is famous for having an underground jungle with trees up to 30m tall and a river flowing inside it, a distinct feature that sets the cave apart from caves elsewhere.
The official website of the Son Doong Cave states that it was formed two to five million years ago by river water eroding away the weak limestone underneath the mountain creating huge skylights. Fossils as old as 300 million years have also been found inside the cave.
Scroll down to view some of the spectacular photos of the cave.