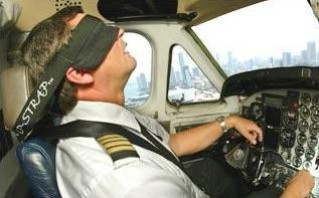 Both pilots on a UK-operated Airbus A330 fell asleep at the same time due to exhaustion, according to a report published by the Civil Aviation Authority (CAA).
Details of the incident only surfaced when a news agency requested information about pilot fatigue. Neither the airline nor the destination has been named.
The pilots were supposed to be resting on 20-minute rotations, but both dozed off when the plane was on autopilot. It is claimed the two pilots had had just five hours' sleep in the two previous nights.
The CAA rejected claims that passengers were being put at risk, and said it would be "very surprised" if either of the pilots were disciplined.
The agency said: "This was a serious incident but an isolated one. I think lessons will be learned from this. We are circulating this report within the industry."
Balpa, the UK pilots' association, claims such incidents could increase if proposals by the EU come into force allowing pilots to fly for longer periods, with fewer breaks between shifts.
Under the new proposals, drafted by the European Aviation Safety Agency, pilots would be allowed to land planes after being awake for 22 hours.
Balpa also claims that crews on long-haul flights would be cut from three to two, and pilots might also be expected to make seven early starts in a row.
The association has long claimed the new regulations place passengers at risk. It says the the Colgan, Buffalo disaster on 12th February 2009, in which 50 people died, was probably caused by pilot fatigue.
Jim McAuslan, Balpa General Secretary, said: "British pilots want to make every flight a safe flight and tiredness is the biggest challenge they face.
"As the regulator responsible for UK flight safety the CAA has been far too complacent about the levels of tiredness among British pilots and failing to acknowledge the scale of the underreported problem.
"In fact the CAA and Government are backing EU cuts to UK flight safety that will increase tiredness among pilots and the risk of dangerous incidents."
Balpa has support from the House of Commons Transport Select Committee, which published a report on 9 September claiming that the views of scientists are already being ignored in order to cut costs.
On 30 September MEPs will vote on a motion that the European Aviation Safety Agency should redraft the proposals, taking greater account of the views of medical experts.