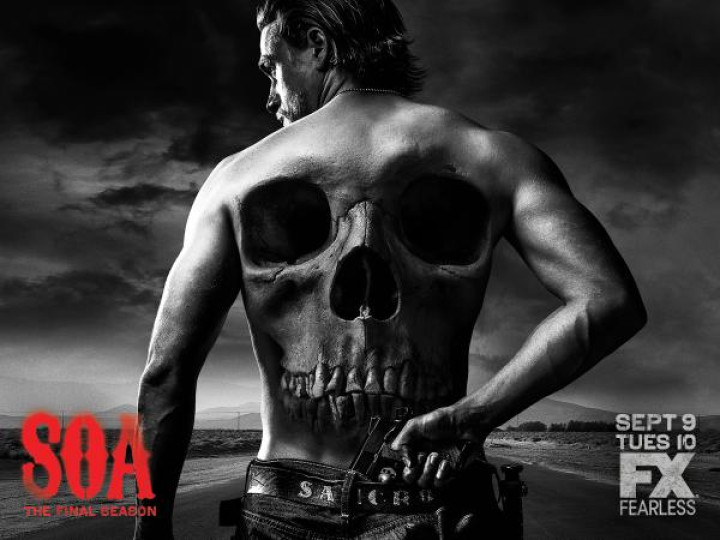 The wait for Sons of Anarchy Season 7 is finally over as the final ride will begin in a few hours.
Fans will witness Jax Teller (Charlie Hunnam) as the reaper with the SAMCRO prince furious after the brutal death of his loving wife Tara Knowles Teller.
The premiere episode titled 'The Black Widower' promises to focus on Jax's journey of revenge as he will be on a killing spree.
The first episode of the final ride begins ten days after Tara's death while the SAMCRO president is seen behind bars for a possible parole violation.
There are numerous speculations regarding the fate of Juice and Gemma. As shown in the trailer, Gemma will be seen doing everything to hide the truth that she murdered her daughter-in-law.
Matt Richenthal from TV Fanatic says Jax will be on a plan to address SAMCRO problems while Gemma will 'justify' Tara's murder with a kitchen fork (really?).
'Jax will put an elaborate plan into motion, one that leads to numerous deaths, betrayals and at least one pressing problem between SAMCRO and a charter club," Richenthal said after watching the premiere episode.
Click Here to watch the premiere episode of Sons of Anarchy online.
You can also watch the live stream of the fan favourite show by subscribing to the episode via video on demand.
Click here to watch the live stream of the episode via video on demand.
The first episode of FX's blockbuster biker drama will run for one hour and 45 minutes.
Fans are excited to learn the fate of Juice and other popular characters as show creator Kurt Sutter has promised that the seventh and final season of the cult series will be the bloodiest SOA series ever.
The show will premiere on Tuesday night on 9 September on FX networks.