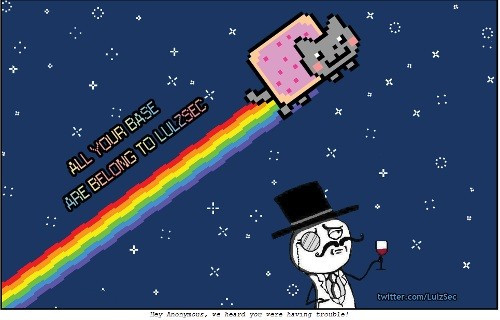 LulzSec's recent claim of a new successful hack on Sony's networks has come just after Sony's public apology to fans at this year's E3 expo, leading to fresh speculation about whether the company will be able to recover from its recent PSN hacking nightmare.
LulzSec's claims
In the wake of the Sony's PSN crisis the hacker group LulzSec has mounted an ongoing campaign against the tech giant.
The first reported attack happened last week. It saw the hacker group target Sony's Pictures and Entertainment website.
The group subsequently issued a statement on its website claiming responsibility for the hack. It posted one million of the website's users personal information, including their names, email and postal addresses and telephone numbers as proof of its claims.
In a statement entitled "Sownage" the group revealed that the attack was intended to demonstrate Sony's continued cyber defence weakness, even after its PSN related reforms.
"Our goal here is not to come across as master hackers, hence what we're about to reveal: SonyPictures.com was owned by a very simple SQL injection, one of the most primitive and common vulnerabilities, as we should all know by now.
"From a single injection, we accessed EVERYTHING. Why do you put such faith in a company that allows itself to become open to these simple attacks?"
The most recent attack the group has claimed responsibility for hacking Sony's BMG music division servers.
The group posted network maps from one Sony BMG's offices New York alongside 54MB of Sony developer source code on its website as proof of the attack
Despite the fact that the Sony PSN and PlayStation Store have since gone live, the group once again cited Sony's handling of the PSN outage as its primary motivation.
"We've recently bought a copy of this great new game called 'Hackers vs Sony,' but we're unable to play it online due to [PlayStation Network] being obliterated.
"So we decided to play offline mode for a while and got quite a few trophies. Our latest goal is 'Hack Sony 5 Times,' so please find enclosed our 5th Sony hack.
"ACHIEVEMENT UNLOCKED: HACK SONY 6 TIMES! Oh damn, we just did it again, please also find enclosed internal network maps of Sony BMG".
Sony's apology and new products
LulzSec's claims come just after Sony's press conference at this year's E3 expo. As well as unveiling its new PlayStation Vita handheld the conference also saw Sony acknowledge and apologise to fans for the extended PSN outage.
A statement reiterating the company's sentiment was subsequently posted on the PlayStation Blog.
"Over the years on the E3 stage, we've talked about the "PlayStation family" - our enthusiastic fans and loyal supporters around the world. This year, "PlayStation family" has taken on an increasingly important meaning. I personally want to thank each and every one of you for your patience during the recent PlayStation Network outage.
"We are extremely grateful for your passion and loyalty. The PlayStation community is stronger and more vibrant than ever and, as detailed a few minutes ago during the E3 press conference, we're going to thank you for your loyalty with new gaming and entertainment experiences on PlayStation and PSN that will continue to affirm our leadership."
LulzSec actual motivation?
At this point many analysts have come to question whether LulzSec's reported claims to grandeur regarding the motivation for its hacking can be trusted.
The groups recent attack against Nintendo would certainly indicate otherwise.
The group yesterday publicised an attack it reported itself as having carried out against the veteran games developer.
As with its previous attacks the group subsequently posted the files it had allegedly stolen from the company. In Nintendo's case this was a purported server config file that the group posted on its website as proof of its involvement.
What makes the attack interesting is that unlike the group's attacks on Sony the group made no claims of a higher purpose being behind the hack.
LulzSec instead boasted that the attack was simply carried out for fun, or as posted on the groups website, "just for LulzSec". Bizarrely the group even went on to claim that it liked Nintendo, "We like the N64 (gaming console) too much - we sincerely hope Nintendo plugs the gap" said a post on the group's Twitter page.
The fact that the group has attacked a major company has brought concern. If the group is willing to target and publish stolen company data just for fun, then what it will do to a company it has openly stated as having a grievance with -- even after that grievance has been fixed and apologised for -- could be at the very least troubling.
Possible storm clouds in Sony's horizon
Sony has just released a slew of new products and services at this year's E3. The 2011 conference is perhaps the best chance the company has had to openly talk about its recent PSN troubles and regain some of the public trust it lost during the security breach and following PSN outage.
With groups like LulzSec continuing to target Sony despite the company's PR efforts and numerous peace-offerings this battle could prove harder than Sony initially estimated.
The trouble is that if hacker groups choose to operate like LulzSec, there may be little Sony can do to deter them.
As evidenced by the group's attack on Nintendo, motivation certainly doesn't seem to be required. Because of this Sony may well find itself the subject of a continued campaign against it irrespective of what peace offerings or reforms it makes.
Whether this will hamper the sales of its new console the PlayStation Vita remains to be seen.
UPDATE: Sony has confirmed the authenticity of LulzSec's first hack.