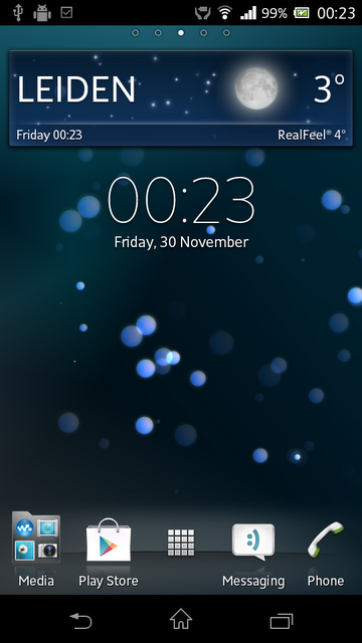 The Xperia Launcher has been ported for all Android devices running Android 4.0.3 (Ice Cream Sandiwich) or higher versions, thanks to XDA senior member ra3al. Tech enthusiasts who want to taste the Xperia launcher on their Android device can check out this tutorial.
The launcher comes with a range of features that were specific to the Xperia devices. It comes with 11 different home screens and customisable desktop in addition to the app drawer grid size (from 3x3 to 9x9). Also, it features resizable widgets, swipe up/down gestures, show/hide icon labels on desktop, enable/disable app sharing on social networks, backup and restore launcher settings, enable/disable tactile feedback (vibration), icon packs support and support for any resolution and any display density.
The launcher supports infinite scrolling on the desktop and the app drawer. It has been improved from the Gingerbread version.
The installation process of Xperia launcher seems to be simple. It includes installation of the APK file just like any other launcher application.
"With the easy installation and the decent feature set, this is an excellent launcher to try out if your current one is getting tiresome," claims a post on the XDA Developers' forum.
ICS users will have two possibilities for adding the widgets:
Grid (drawer-like) interface which required root or installation as a system app
Conventional (list-like) interface that does not require root
Jelly Bean users can use the Grid interface even without the root access. The Xperia launcher is reported to support all smartphones and tablets (both Xperia and non-Xperia) running ICS and higher versions; all ROMs are supported as well.
Xperia Launcher download links:
[Android 4.0.3+] Xperia Launcher 1.3.2
[Android 2.3.1+] Xperia Launcher 0.9.2c (for non-Xperia devices only)
[Source: XDA Developers' Forum]