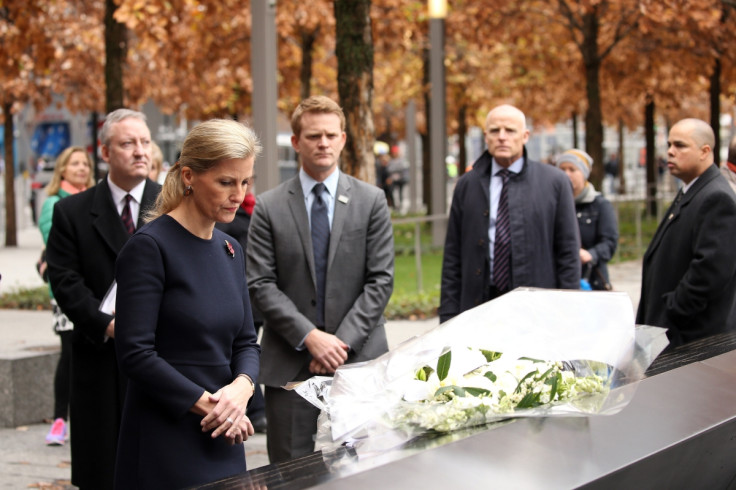 Sophie, Countess of Wessex, paid her respects and marked Veterans Day with a visit to the 9/11 Memorial and Museum on 11 November. The 50-year-old wife of Prince Edward placed a bouquet of flowers to commemorate the visit on the memorial etched with the names of the nearly 3,000 victims killed on 11 September 2001.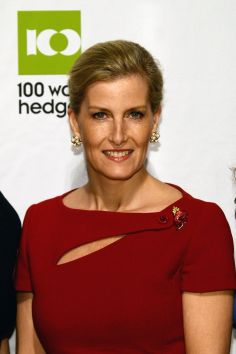 People Magazine reported that the royal mother of two attended an Armistice Day service at The Queen Elizabeth September 11th Garden in Hanover Square earlier in the day. The memorial garden, opened by the Queen in July 2010, honours the 67 British victims of the terrorist attacks.
The fashionable royal sported a stylish black dress and nude pumps and accessorised with the traditional red poppy. Sophie also took a tour through the museum, making sure to stop at each exhibit. During her stop in the memorial garden, the Countess observed two minutes of silence and placed a wreath of poppies in the gardens, Hello! Magazine reported.
Sophie capped the emotional day with a stop at the 100 Women in Hedge Funds Gala dinner at Cipriano Restaurant. For the dinner, she wore an elegant red fitted dress with a slight cut out near the neckline and a poppy broach. According to Hello!, Sophie made a speech at the gala as part of her work as the organisation's Global Ambassador for the Next Generation initiatives.
Meanwhile, across the globe in Australia, Sophie's brother-in-law Prince Charles and his wife the Duchess of Cornwall joined Australian Prime Minister Malcolm Turnbull for the Remembrance Day National Ceremony at the Australian War Memorial in Canberra. Charles's son Prince Harry, marking Armistice Day in London, spoke at a reception for the Endeavour Fund and spoke with wounded service members, the magazine reported.