The fight to replace South Africa's scandal-prone President Jacob Zuma began Saturday as thousands of delegates of the ruling African National Congress gathered to elect a new leader.
The reputation of Nelson Mandela's liberation movement has been battered during the tenure of Zuma, whose second term as party president is up. The new ANC leader is likely to become South Africa's next president in 2019 elections.
The two clear front-runners are Deputy President Cyril Ramaphosa and Nkosazana Dlamini-Zuma, former chair of the African Union Commission and Zuma's ex-wife.
Voters are frustrated with the ANC as Zuma's administration has been mired in scandal and corruption allegations. Africa's oldest liberation movement, which celebrated its 105th anniversary this year, led the fight against the system of white minority rule known as apartheid and has governed South Africa since the first democratic elections in 1994.
Observers say the party needs to restore its reputation or it could be forced into a governing coalition for the first time. Party divisions run so deep that analysts say either outcome, Ramaphosa or Dlamini-Zuma, could mean the end of the ANC's dominance as members of the losing faction could form a new party.
Zuma could carry on as head of state until 2019, when his term ends, or he could step down or be ousted before then by the new party leader ahead of the general elections.
Under Zuma, unemployment has risen to nearly 30 percent and economic growth has slumped. More than 55 percent of the country lives below the poverty line.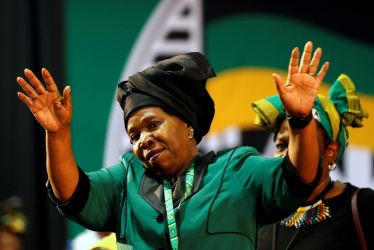 Ramaphosa, who helped negotiate an end to apartheid and has become one of the wealthiest men in a democratic South Africa, has pledged to crack down on corruption and get the economy back on track. Dlamini-Zuma, a doctor and former government minister and an ally of the president, has promised to bring more black South Africans into the fold through "radical economic transformation."
Some South Africans worry, however, that Dlamini-Zuma would be influenced by her ex-husband and perhaps shelter him from prosecution. Others were excited by the idea of her taking charge.
"Now I want a woman president," said Lerato Godi, a delegate from North West province.
The growing frustration around Zuma led the party to suffer its worst-ever performance in municipal elections in 2016, with its vote share falling below 60 percent for the first time.
"Anyone who wins we are going to support and rally behind," said Sasekani Manzini, a spokeswoman for the ANC in Mpumalanga province. She said she supports Dlamini-Zuma but "we want to see a united ANC."